Orlando — Valencia College's Peace and Justice Initiative launches its annual weeklong Conversation on Justice on Saturday, Jan. 25 at 6 p.m., with a celebration of Native American teachings, music and dance.Conversation on Justice on Saturday, Jan. 25 at 6 p.m., with a celebration of Native American teachings, music and dance.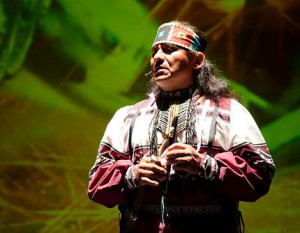 Valencia's guest speaker for the evening will be Joe Iron Eagle, a medicine man and member of the Chiricahua Apache, a tribe native to Arizona, New Mexico, whose best-known leader was Cochise. Joe Iron Eagle learned the traditional and spiritual ways of the Native Americans from his grandfather and his mother, both Chiricahua Apaches. A traditional Sun dancer, Joe Iron Eagle studied medicine under Bear Paw, an Apache medicine man, and Two Tree, a Lakota medicine man.
The event will be held from 6 to 8 p.m. in Building 5, Room 112 on Valencia's East Campus. The East Campus is located at 701 N. Econlockhatchee Trail.
During the week of Jan. 25-31, the Conversation on Justice will focus on one theme for each day. Workshops and panel discussions will be led by Valencia College faculty members and community experts, and are designed to inform students and the public about issues relating to that day's topic.
Each evening at 6 p.m., a free film screening will highlight the daily topic and will be followed by a panel discussion.
On Monday, Jan. 27, the daily topic will be "sexual orientation." Among the topics to be discussed will be: personal experiences within the gay, lesbian, bisexual and transgender community; how to create a safe space for lesbian, gay, bisexual and transgender people; and if athletes can be open about their sexual orientation. The day-long discussions will be capped with a 6 p.m. showing of the award-winning documentary, "For the Bible Tells Me So," an award-winning documentary that examines how five Christian families – including those of former Rep. Richard Gephardt and Episcopal Bishop Gene Robinson — handle the realization that one of their children is gay.
On Tuesday, Jan. 28, the topic will be "sustainability," or how to reduce human impact on the planet. Workshops and discussions will focus on eating vegetarian, Native American traditions, and genetically modified organisms. From 1-2:15 p.m., students will watch "Genetic Roulette," a documentary about genetically-modified foods, and the day's events will culminate with a 6 p.m. showing of "Food Inc.," which examines how the nation's food supply is controlled by a handful of corporations and the impact that may have on consumer health, the livelihood of farmers and the environment. A panel of experts will discuss the film afterward and Jeffrey M. Smith, best-selling author and founder of the Institute for Responsible Technology, will Skype in for the discussion.
On Wednesday, Jan. 29, the daily topic will be "economic inequality and poverty." From 11:30 a.m. to 12:45 p.m., representatives from Second Harvest Food Bank, Coalition for the Homeless, New Image Youth Center, the Early Learning Coalition and the League of Women Voters will discuss the topic in the atrium of Building 3. The day's events will wrap up with a showing of "A Place at the Table," a documentary about hunger in America.
On Thursday, Jan. 30, the daily topic will be "race." One of the day's highlights will be a 1-2:15 p.m. discussion about embracing Central Florida's diversity, which features panelists from the Urban League and Dream Defenders. At 6 p.m., the film, "Boyz N the Hood" will be shown in Building 3, room 113, and will be followed by a discussion.
On Friday, Jan. 31, the day's events will focus on violence. Highlights include a 1-2:15 p.m. panel discussion about moving away from a culture of violence, featuring representatives from Moms Demand Action for Gun Sense in America, Peace Buy Piece (a group that supports gun buy-backs), It Can Happen Here, and the Orlando Police Department. The day's events will culminate at 6 p.m. with a viewing of the documentary, "Living for 32," about the Virginia Tech massacre and gun violence.
For more information about the weeklong calendar of events, please visit http://valenciacollege.edu/pji/documents/ConversationonJusticeMaster.pdf