Rachel Allen, director of Valencia College's Peace & Justice Institute, has been invited to participate in a United Nations panel discussion about creating and sustaining a culture of peace in our society.
The panel discussion will be held at the United Nations headquarters in New York City on Sept. 5. It is part of the High-Level Forum on the Culture of Peace, which has been held annually since 2012.
"The United Nations is committed to creating peace and exchanging ideas for building a culture of peace," says Allen. "What we are doing locally, by inviting stakeholders from across the Central Florida community to participate in community dialogues, educational workshops and public forums, is an effort to cultivate a culture of peace within our community."
Since 2008, the Peace and Justice Institute at Valencia College has worked to promote a culture of peace and understanding within our community – one where conflict leads to growth and transformation rather than violence or aggression. Each year, the Institute offers a robust calendar of events and courses to students, employees and the public. Through its programming, PJI encourages campus conversations about topics including racial justice, hunger in America, sexual identity, the search for happiness, sustainability, nonviolence, economic inequality and poverty.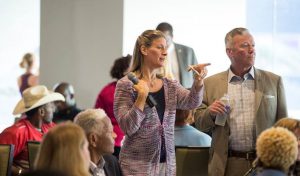 Outside the college, PJI has also worked to promote peace in Central Florida. Since 2015, PJI has served as the facilitator for "Orlando Speaks," a series of interactive workshops designed to foster citizen engagement and dialogue between Orlando residents, the city of Orlando and the Orlando Police Department.
In July 2018, the Peace and Justice Institute received a $25,000 grant from the Central Florida Foundation's Better Together Fund to launch the PJI Academy for Teachers, a weeklong teacher development program for early learning through post-secondary teachers.
Earlier this year, PJI led a series of community events throughout Central Florida to address the legacy of the 1920 Ocoee massacre.
In 2017, PJI's Legal Education Action Project (LEAP) launched a series of continuing legal education classes designed to teach legal professionals how to skillfully navigate conflict not only with difficult clients, but also with challenging opposing attorneys – with the goal of increasing the level of civility in the legal system. The continuing education classes are accredited by the Florida Bar.
For more information about the Peace and Justice Institute, please visit www.valenciacollege.edu/pji