Archie Brechin dreams of becoming a college professor.
It is, he says with a chuckle, the family business.
His mother is a former professor turned college administrator; his father is also a college professor. So it's not surprising that Archie is dreaming of "a life of the mind." Or that he devours books about anthropology, history and sociology.
Being cerebral, you see, comes quite naturally to Archie Brechin.
But there are other things that don't come naturally to Archie.
For instance, he struggles with social interaction – because he is on the autism spectrum – and as a child received extensive speech and occupational therapy.
But to make it as a college professor – or even make it through college – Archie has had to face down his obstacles. And though he started college at prestigious Syracuse University, Archie struggled there and decided to take a break.
"For me, transitions tend to be a little bit rough," says Archie, who's now 26. "After I graduated high school, I felt like I had mastered my environment, but when I got to Syracuse, I didn't know what to do with myself."
When he re-enrolled in college in 2010, he opted to attend Valencia College  – based primarily on the college's stellar reputation as the first winner of the prestigious Aspen Prize for Community College Excellence.
In Orlando, Archie lived on his own, renting an apartment and taking the bus to class. And at Valencia, Archie says, he discovered professors who would push him to do his best, and students who were also trying to find their way.
"I fell in love with the campus, I was very impressed with the instruction — and the students, they were like me. They were trying to figure out what they wanted to do. They wanted something different for themselves," says Archie.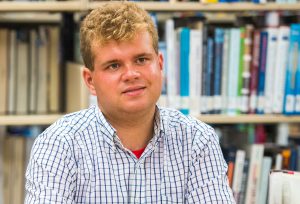 But to make it as a college professor – or even make it through college – Archie has had to face down his obstacles. The most problematic was his social interactions with others. What he discovered at Valencia – and later at Rollins' Hamilton Holt School, where he earned his bachelor's degree – was that many of his fellow students were dealing with their own obstacles.
"At both Rollins and Valencia, I met students who took full loads, worked and some supported families. A lot of them worked two jobs," he said. "It was very common for people to show up to class smelling of French fries," he said. "It taught me that not only is it possible to go to college without mom and dad's support, but people do it all the time. This is the majority of America. And so I loved it. They showed up to class engaged and ready to learn; they did not take the college experience for granted."
During his first semester at Valencia, Archie stumbled into the classroom of an adjunct professor who would become instrumental in his life: Dr. Bahiyyah Maroon. Maroon, who teaches introduction to anthropology at Valencia, quickly recognized that he was special.
"You teach courses and you've got so many students coming in and out, you get a lot of sense of personality through non-verbal communication," she says. "He had this tremendous radiance  and he's also extremely intellectually gifted."
Still, Archie – in addition to his social shyness – also needed some accommodations to help him with his studies. "He's an extremely gifted thinker. He can read something and verbally communicate in a brilliant fashion," says Maroon, "but to translate that same acumen into a written document can be a tremendous amount of work. It's a huge work process. To his credit, he puts the work in."
And though he needed accommodations – such as extra time to work on papers – he rarely used the extra time, except during testing. "This is the result of a tremendous amount of work on his part; I'm talking about Herculean levels of work."
Maroon encouraged Archie to stay in touch, but he, like many students, drifted off. When she bumped into him in the Rollins College computer lab several years later, she was happy they reconnected. As they talked, Maroon offered to serve as Archie's mentor.
"She would always check on me; she would text me; we would talk and meet for coffee. We would talk about graduate school and what graduate school would be like," Archie says. "The life of a graduate student is actually a really hard life. She reminded me that you'll have to watch your friends take vacations or get raises while you're still working on your thesis."
The two forged a connection that Archie was grateful for.  "My parents did give me advice; they did tell me about their experiences. But I think it was helpful to get someone else's perspective," he says. "Besides, it was nice to have someone other than your parents think you're smart and capable."
And Maroon always made herself available.  "She was always available; always approachable, always forgiving, but she expected a lot from me. I greatly appreciated that."
Yet at Valencia and at Rollins' Hamilton Holt School, Archie never felt special or weird or better than anyone else.  Indeed, he says, some of his Valencia classmates were incredible students – and more talented than those he met at Syracuse.
"I thought my problem was school but my real problem was interacting with people," he says. "Now I'm glad that I got the opportunity to work through my issues. What sometimes matters more in educational and professional settings is your ability to interact and get along with people."
Now, after graduating cum laude from Rollins, Archie is taking the next step toward his dream. This fall, he is starting a post-baccalaureate program in global and international history at Columbia University in New York. Today, Archie looks back in retrospect and realizes that transferring to Valencia College may have been the best move he made.
"I absolutely loved my classes and I loved Valencia.  Academia is the love of my life," he says. "Starting out at a community college really gave me the confidence to pursue that dream."
And, for all the students – or people wondering about college – Archie offers some final words of advice:  In your endeavors to reach your dreams, please remember that self-care is a crucial element that has, until recently, been overlooked in the professional world. My major downfalls in life had nothing to do with my lack of professional prowess, but my inability to meet my own needs. The most important act of self care is loving yourself.
  My dear mentor, Dr. Maroon, once said at the end of an organizational anthropology class: "Everyone needs someone in their lives to tell them that they are amazing. And if you don't have anyone in your life giving you positive feedback of that nature, you need to provide that to yourself."  The professional world can sometimes be a scary and impersonal place, but the light that shines inside of you is bright enough to overcome even the darkest of nights.