When Vincent Wardynski was graduating from high school, he did what many family members thought was unthinkable – he joined the Army.
At 18, Vincent says, he didn't know what he would have done at college and, frankly, he hadn't been a great high school student. But he knew that the Army would ultimately pay for him to go to college – and, at 18, Vincent was savvy enough to understand that he didn't want to rely on loans.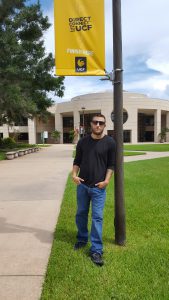 "At 18 years old, you don't know what you want to do, and to make these huge investments in your future is risky," says Vincent. "Very few 18-year-olds know what they want to do with their lives."
Instead, Vincent headed to boot camp in 2009 and, after two tours overseas – one in Iraq and another in Afghanistan — he began looking at colleges in Florida. The reason? The Massachusetts native hated the idea of going back home to the snow and ice of Boston winters.
In 2014, he enrolled at Valencia, fully intending to earn an Associate in Arts degree and transfer to the University of Central Florida.
"I was initially just going to get my A.A. and figure it out from there," says Vince, now 28. "My mother works at the Supreme Judicial Court of Massachusetts, which is the state's supreme court. I was always interested in the law and thought about going to law school."
 But during his New Student Experience class, Vincent realized that he should start figuring out if a career in law was really right for him. "I started looking into what programs Valencia offered and I decided to enroll in the paralegal studies program because I wanted to understand the system and what I was getting into, prior to spending all that money on law school."
As luck with have it, Vincent found his niche in Valencia's paralegal studies program. "Almost right away, I really enjoyed the classes," says Vincent. "I liked real property; I liked civil litigation."
His professors noticed. "He was a relatively quiet student, but was always prepared and participated in class discussions," says Prof. Wendy Toscano, chair of the college's paralegal studies program. "What really stood out to me was his writing and analytical ability. His final legal memorandum in one of my classes was so outstanding I told him he should really consider law school."
Toscano should know – she graduated from George Washington University's law school and practiced for a decade before teaching at Valencia College, where the paralegal studies program is approved by the American Bar Association. Toscana also talked to Vincent about law school and his options. And, after he graduated from Valencia, she helped him land a part-time, paid paralegal internship at Red Lobster, where he worked while studying at UCF.
At UCF, Vincent excelled, while studying comparative and international law. He was named an editor for UCF's inaugural Law Review and graduated with honors in spring 2018. And next, before heading to law school, he'll be working as a security contractor with the U.S. State Department in Afghanistan.
And while Vincent's mom is not happy about his return to Afghanistan, he has a plan.
"In my head, it's a means to an end. It pays really well — and I don't want to take out loans for law school, so if I can save enough to pay at least half of law school tuition out of pocket, I will be a happy camper."
In the meantime, he's looking at law schools – with an eye toward specializing in national security or defense.  "The fact that I got a bachelor's degree without incurring any debt is pretty exciting," says Vincent, who finished his bachelor's degree in three and a half years. "I'm a big advocate for getting a little bit of life experience before college."