If anyone asks Jackson Chase to write an essay about his summer vacation, what a story he can tell.
Jackson, a senior at Lake Nona High School and a Valencia College dual enrollment student, advanced to the National High School Musical Theatre Awards, known as the Jimmy Awards, in New York City.
The Jimmy Awards are produced by The Broadway League, which has awarded more than $5 million in education scholarships since 2009.
The Jimmy Awards are named after the late Broadway producer James M. Nederlander.
Described by the New York Times as "the Tonys, for teenagers," the Jimmys have helped jump-start the careers of many rising Broadway stars – including Reneé Rapp and Kyle Selig of "Mean Girls" fame.
Jackson joined 92 of the nation's best musical theater students who flew to "the city that never sleeps," to represent 46 regional theater programs. During the week, Jackson trained with Broadway experts – including Broadway veteran performer and choreographer Denis Jones – at The Julliard School.
Reflecting on this opportunity, Jackson said, "I learned so much, it was incredible. The experience showed me theater is what I am supposed to be doing after high school and I can make it."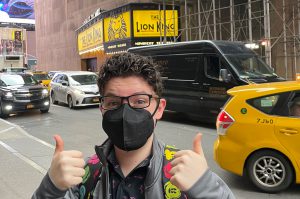 Jackson and the other high school students in the competition also had the opportunity to see themselves on a billboard in Times Square.
At the end of the nine-day trip, Jackson took home the win for Best Performance in an Ensemble and received $2,000 in scholarships, sponsored by Disney.
"This award specifically is important to me because it shows I can work well with people but also stand out," said Jackson, who used the scholarship money to purchase a laptop in preparation for college.
Jackson decided to dual enroll at Valencia College to earn general education credits while in high school so that when he graduates and heads to college, he can focus more on his craft without the worry of general education requirements.
"The opportunity to take dual enrollment classes online allows for me, in high school, to practice with theater and choir teachers to focus on what I want to pursue in college. This is possible because dual enrollment gave me that opportunity," said Jackson.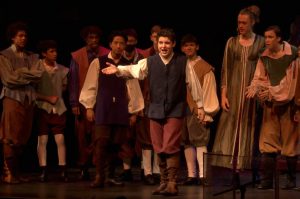 Cheering Jackson on the entire time during his journey have been his parents, who also happen to be his arts teachers at his local high school. Justin Chase (father) is the choral director at Lake Nona High School and Gail Chase (mother) is the theater teacher, director and thespian club sponsor.
Jackson says he is spending his senior year reflecting on all the ideas and skills he learned while in New York City but is also using this time to apply to 13 colleges nationwide. He also says he plans to finish out his final theatrical season of high school strong.
For young people who want to pursue a career or a college degree in the arts, Jackson offers this advice: "Art is everywhere, and you can make art anywhere."
The stage lights are shining brightly on Jackson as he finishes high school, but what looks even brighter is his future.