Plastic soda rings, bottle caps and plastic bags encase sea turtles and other sea life every day as they become entangled in the trash that lines the edges of oceans and islands. Some pieces of this plastic wave have even traveled far enough to land on the shores of islands that were once deemed "unreachable" by man. Still, they float on through the water and pass through numerous ecosystems, breaking down into small microscopic pieces over time that become nearly impossible to collect and remove.
These are just a few of the images of our toxic relationship with plastic that Susan Freinkel explored during her speech in the Performing Arts Center on Tuesday, Feb. 4. Freinkel's visit was part of Valencia College's Humanities Speakers Series, which hosts well-known speakers and national experts on campus throughout the academic year.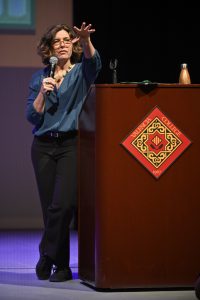 After years of working as a journalist focused on legal affairs and business, Freinkel dove into the natural world and in 2007 wrote her first book, "American Chestnut: The Life, Death and Rebirth of a Perfect Tree." The book went on to win a 2008 National Outdoor Book Award, and following its success she decided to turn her attention to the "unnatural world," leading to the inspiration for her next book, "Plastic: A Toxic Love Story."
Freinkel's book explores the discovery of manufactured plastics, their rise in American culture following World War II and the implications that the mass consumption (and subsequent waste) of plastic products has had on our environment.
During her speech at Valencia College, she explained her inspiration for the book: she challenged herself to not touch anything plastic for an entire day. When she quickly realized how unrealistic that challenge would be–after being unable to use her toothbrush, doorknobs and even her car–she shifted her focus to keeping a list of every plastic item she encountered throughout the day. The end result was a detailed list of everyday household items that loomed largely behind her while she spoke on stage.
Although plastic production soared after WWII and the subsequent advertising campaigns promoted the ideology of "throwaway living," Freinkel is quick to note that there are positives from the creation of plastic and that she's opposed to the idea of "total plastic purging."
"There are some really good things that come from plastic … and I don't even think that divorce [from plastic] is possible," she said. "You could not have modern medicine without plastic … It's about rethinking the relationship."
Ways to shift that relationship with plastic include changing our approach. Instead of using raw materials to produce a product, use it and then create non-recyclable waste, we would recycle the end product back into raw material for a new product.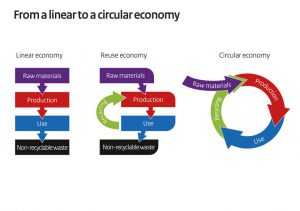 "All of the strong elements that make plastic bags an industrial marvel are the reasons at the very core of what makes it, and plastic overall, harmful to society and unable to breakdown," Freinkel said.
So how do we take steps in our own lives to keep plastic and its byproducts out of the environment?
Freinkel offered a few tips on how to reduce your plastic use:
Use reusable water bottles
Purchase reusable bags for grocery store trips
Avoid plastic containers or products with unnecessary plastic packaging (for example, cellophane wrapped fruit)
Don't buy beverages in plastic bottles

If you do, cut the plastic rings before throwing them away to help prevent wildlife becoming entangled in the rings

Don't use plastic utensils, instead try reusable bamboo products
Store food in glass containers or jars
Don't forget to clean your used products before you recycle them–this gives them a better chance of actually being repurposed in the recycling process