Orlando, FL – Autism activist and animal science expert Temple Grandin will be the keynote speaker for Valencia College's Humanities Speakers Series. On Nov. 5 and 6, she'll discuss autism and Asperger's syndrome at Valencia's East Campus.
Now a professor of animal science at Colorado State University and best-selling author, Grandin didn't talk until she was three and a half years old, communicating instead by screaming, peeping and humming. Diagnosed in 1950 with autism, she has become a prominent author and speaker on the subject of autism.
"I have read enough to know that there are still many parents, and yes, professionals too, who believe that 'once autistic, always autistic.' This dictum has meant sad and sorry lives for many children diagnosed, as I was in early life, as autistic. To these people, it is incomprehensible that the characteristics of autism can be modified and controlled. However, I feel strongly that I am living proof that they can," she wrote in her book, "Emergence: Labeled Autistic."
Grandin invented the "hug box," a device to calm those on the autism spectrum, and was the subject of the Emmy-winning semi-biographical HBO film, "Temple Grandin." In the 2010 Time 100 list of the most influential people in the world, she was named in the "Heroes" category.
Grandin will speak on Nov. 5 at 7 p.m. and on Nov. 6 at 1 p.m. in the East Campus Performing Arts Center. These events are open to the public. Tickets are free and available at https://www.eventbrite.com/e/dr-temple-grandin-keynote-presentation-tickets-17943612829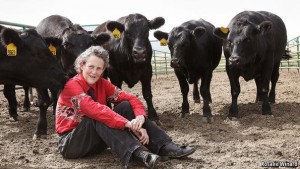 Although she was considered "weird" in her young school years, Grandin eventually found a mentor who recognized her interests and abilities. She later earned a master's and doctorate degree in animal science and enjoyed a successful career as a livestock-handling equipment designer, one of very few in the world. She has now designed the facilities in which half the cattle are handled in the United States, and does consulting work for firms such as Burger King, McDonald's, Swift and others.
Grandin is now the most accomplished and well-known adult with autism in the world. Her fascinating life, with all its challenges and successes has been brought to the screen. She has been featured on National Public Radio, major television programs, such as the BBC special "The Woman Who Thinks Like a Cow," ABC's Primetime Live, The Today Show, Larry King Live, 48 Hours and 20/20, and has been written about in many national publications, such as Time magazine, People magazine, Forbes, U.S. News and World Report, and New York Times. She was also featured in the best-selling book, "Anthropologist from Mars."
Grandin's current bestselling book on autism is "The Way I See It: A Personal Look at Autism and Asperger's." She has also written "Unwritten Rules of Social Relationships,"
"Animals Make us Human," "Animals in Translation," "Thinking in Pictures" and "Emergence: Labeled Autistic."
She is appearing as part of Valencia College's Humanities Speakers Series, which will also bring author Wil Haygood (author of "The Butler") to Valencia in February 2016 to talk about his new book, "Showdown: Thurgood Marshall and the Supreme Court Nomination That Changed America."
The Humanities Speakers Series is sponsored by Student Development and the Valencia Foundation.
For more on the Humanities Speakers Series, please visit https://valenciacollege.edu/east/humanities/SpeakerSeries.cfm