Sparks fly through the air around Emma Lynn Ponds as she strides into the room, swimming in her thick protective jacket and brown work boots with her welding helmet in hand. At first glance she stands out amongst the largely male-dominated room, perhaps as someone who might have taken a turn and ended up in the wrong classroom. But once she slips on her Nintendo welding cap and pulls down her helmet, taking her position inside a welding bay, she blends into the sea of flying embers and flashing light. Tuned into her machinery and tools, she dives into her work as both an artist and a skilled tradeswoman.
"When I'm welding and I'm throwing down those beads, I just feel so empowered," Emma Lynn says. "Just knowing that you're this little person who can do this, and on top of that you're a female doing some badass work, it just feels awesome."
Emma's excitement and passion for welding began while working at the front desk of Valencia's Advanced Manufacturing Training Center (AMTC) in Kissimmee. While she studied for her Associate in Science degree at the nearby Osceola Campus, she watched students enter the facility and pick up torches to cut through steel, or master machinery in pursuit of a new career path. One day, when a student asked her to jump into a bay and give welding a shot, she couldn't say no.
"I fell in love with everything about welding. The sparks, the glow, the lights, and I knew then that I had to do something in this field," she says. "Even my mom said, 'That place is calling to you for a reason, those students pulled you into that welding bay for a reason. You're meant to be there.'"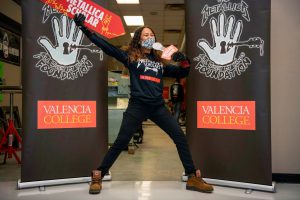 But Emma Lynn's journey to finding her passion in welding took several hard bumps and turns along the way. When Emma Lynn was in middle school, her mother fled a domestic abuse in New York and brought Emma Lynn and her brother to Florida, seeking a new life. The move left them homeless and eventually living in a women and children's shelter while Emma Lynn was maneuvering her late middle school years.
Life never pulled its punches for the Ponds family. Within two years of their move to Florida, they received life-altering news— Emma Lynn's mother was diagnosed with a brain tumor. But these trials and tribulations couldn't hold Emma Lynn back. In spite of all those challenges, she became the first female in her family to graduate from high school and also the first to attend college.
"We thought we would have this new life and it was just a mess in the beginning," she says. "My whole life, people have told me I wouldn't be able to graduate from high school, that I wouldn't be able to go to college, and now I'm here and it's just amazing."
With a two-year degree tucked into her welding jacket, Emma Lynn is finally pursuing her welding certification as a Metallica Scholar through the band's All Within My Hands Foundation grant gifted to Valencia College this year. The Metallica name holds a special place in the Ponds' household: Emma Lynn's mother was a fan of the group before Emma Lynn was even born. In fact, Emma Lynn might just have been one of Metallica's youngest fans, thanks to her mother.
"When my mom was five months pregnant with me, she was actually at a Metallica concert in the second row," Emma Lynn says. "It's crazy, now almost 22 years later and here I am, receiving the Metallica scholarship myself. She's super proud."
After she finishes her training at Valencia next year, Emma Lynn plans to pursue a degree in psychology, taking her trade skills and combining them with her degrees to create an artistic outlet for veterans with post-traumatic stress disorder. In the meantime, she continues to encourage females to take a chance on welding, while never forgetting the road that brought her to Valencia.
"You don't really see that many females in the welding industry, and I definitely want to be another female to make history in the field," Emma Lynn says. "But most important, after everything I was able to overcome, I want to be the one to pull my family out of poverty and build a better future for us."
To learn more about Valencia College's Advanced Manufacturing Training Center programs and  Metallica's All Within My Hands Foundation grant, please visit: https://valenciacollege.edu/campaign/metallica-scholars.php