If Quentin Tarantino's film "Django Unchained" is your type of film, don't miss bestselling author James McBride performing and discussing the famous abolitionist John Brown on Oct. 30 at Valencia College.
McBride, whose rollicking historical novel about Brown, "The Good Lord Bird," has won acclaim from the New York Times and the Washington Post, will present the powerful story of Brown, the white abolitionist who attacked the nation's largest arsenal of weapons in 1859 and ignited tensions that led to the Civil War.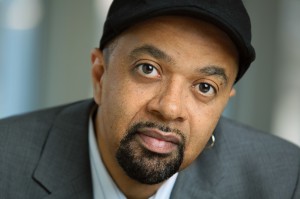 McBride's novel humorously tells the story of Brown through the eyes of Henry, a young slave boy whom Brown mistakes for a girl. Brown takes "Henrietta" from his parents and carts him around the country, where he encounters famous figures such as Frederick Douglass and Harriet Tubman and is swept up in Brown's exploits.  Henry's adventures, concluded one reviewer, make Huck Finn's escapades seem tame.
In this presentation, which is based on "The Good Lord Bird," McBride shares the story of John Brown, using gospel and spiritual music of the time to frame his life and how it is presented in the book. Audiences will feel inspired and uplifted by the amazing music and the life story of a true American hero.
McBride will speak at Valencia's Performing Arts Center at 1 p.m. on Oct. 30. The Performing Arts Center is located on Valencia's East Campus, 701 N. Econlockhatchee Trail, Orlando.
A Renaissance man and born storyteller, McBride is the author of "The Color of Water: A Black Man's Tribute to His White Mother," a narrative about his mother, a white Jewish woman from Poland who married a black man, founded a Baptist church, and put 12 children through college.
"The Color of Water," which was on The New York Times bestseller list for two years, is now read in high schools and colleges nationwide. McBride's second book, "Miracle at St. Anna," is now a Touchstone/Disney film, directed by Spike Lee. His book, "Song Yet Sung," is a national bestseller and the 2009 choice of "One Book/One Maryland."
A graduate of Oberlin College and the Columbia School of Journalism, McBride has written for The Boston Globe, People magazine, and The Washington Post. As a journalist, McBride spent six months covering Michael Jackson and his family for People magazine, at the height of Jackson's career, during his 1984 Victory Tour. Also an award-winning composer and saxophonist, McBride has penned songs (music and lyrics) for Anita Baker, Grover Washington Jr., and Gary Burton, as well as for the PBS character "Barney."
McBride's speech is presented by Valencia College's Humanities Speakers Series.
For more information about the series, please visit the webpage: http://valenciacollege.edu/east/humanities/SpeakerSeries.cfm