Last year, when Crystal Mack's employer moved her banking job from Orlando to Atlanta, the 32-year-old single  mom suddenly found herself without a job.
With three kids to support, she began desperately looking for work. The bills piled up, but the jobs weren't forthcoming. Finally, she and her kids had to move in with her parents.  "I would do anything to pay the bills … data entry, anything," Crystal recalls, "but the job market was very tough."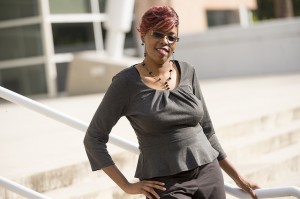 She had no luck, that is, until the day she got an email from Chaz Davis, Valencia's adviser for engineering and computer science students.
In an email, Davis reached out to the 2002 Valencia grad — and urged her to consider coming back to Valencia for her bachelor's degree.  Mack, who'd earned her Associate in Arts degree at Valencia, had taken computer programming classes during her first stint at Valencia — and she was intrigued by the news that Valencia was now offering a bachelor's degree in electronics and electrical engineering technology.
"I thought, 'Well, I'm not doing anything right now, so maybe  should go back to school,' " says Crystal.
So Mack signed up for classes, starting back at Valencia in fall of 2013. Today, at age 33, she's working toward her bachelor's degree and juggling the demands of being a single parent, along with a pretty tough course load — Calculus 2, digital systems 2, and semi-conductors.  And though money is tight — and she often uses what little money she has to fill her gas tank — Mack hopes to graduate in 18 months with her bachelor's degree.
Crystal's struggles illustrate some of the difficulties that many Valencia students face. To help promising students overcome some of their challenges, the Black Advisory Committee each year selects needy students to receive $400.  The students are nominated by their professors, who are often aware of the hardships these students face.
Valencia College's Black Advisory Committee Incentive Awards are presented annually to recognize and encourage students who have achieved academically despite severe economic, physical or personal challenges. Any student who meets the eligibility requirements and has persevered in spite of physical disabilities, lack of economic resources, personal or family problems is a candidate for this award.
To be eligible, students must have completed at least 12 hours of course work at Valencia with a GPA of 2.0 or higher and must be studying for a degree.
This year, the recipients are: Juana Garcia, Hani Gittens, Douglas Hollis Jr., Laila Kamari, Crystal Mack and Joshua Robinson.
Like Mack, Joshua Robinson has faced challenges that many college students can't imagine.  Growing up, he and his siblings moved around a lot because his mother has lupus, a debilitating autoimmune disease. As a result, Joshua attended three different high schools — and was living in Osceola County when he graduated. But shortly after Joshua began classes at Valencia College, his mother moved to south Florida. So while his younger siblings moved, Joshua stayed in Central Florida. It was a precarious time for him, as he bounced around from one friend's home to another.  To support himself, he got a job at a doughnut shop — before he landed a spot as an orientation leader at Valencia. Today, he works in the college's Atlas lab.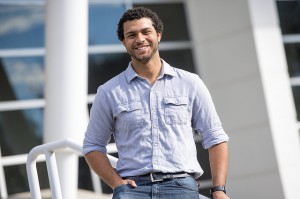 Joshua, who's a 22-year-old pre-law student, has a 3.44 GPA and plans to start classes at the University of Central Florida in January. A natural leader, he participates in many campus activities, including College Night and Academic Advising Happy Hour.
While Joshua helps students in Valencia's Atlas computer lab, another one of the recipients, Juana Garcia, is studying a helping profession.
Juana, who's 34, was born in the Dominican Republic and moved to the United States at age 21.  Three years ago, Juana signed up for English classes and then began taking prerequisite classes to study in Valencia's radiography program.
"I like the health field. I'm a caring person, so I like to help others," says Juana, who initially thought about entering nursing. When she began classes for radiography, she wasn't sure that it would be a good fit. "But I love it. I didn't know I was going to, but I do."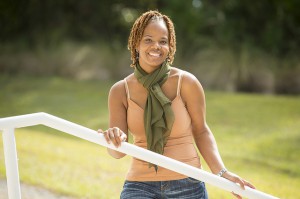 In addition to a heavy courseload, Juana is raising two kids singlehandedly with a very limited income. And she's on pace to take her national certification exam in May 2015. Yet she never forgets to smile and show her compassion for others. When she works in hospitals, she often translates for Spanish-speaking patients.
"Juana overcomes many daily struggles through her faith," said her nominator, Professor Julie Kloft. Juana is a member of the Valencia Student Radiology Association and the American Society 0f Radiology Technologists. She currently has a 3.71 GPA.