In the mostly male, mostly white world of college quiz bowl, Sheina Senat stands out.
Not just because she's a woman of color — but because she's captain of Valencia College's winning quiz bowl team and one of the top community college quiz bowl players in Florida, if not the nation.
Which is why all eyes were on Sheina and her fellow Valencia Brain Bowl team members this weekend, when Valencia College hosted the national championship of community college quiz bowl — also known as the National Academic Quiz Tournaments Community College Championship Tournament.
And, to perhaps no one's surprise, Valencia's Brain Bowl team won its ninth national championship, beating their rivals from Chipola College (from Marianna, Fla.) by a score of 260-210.
For those unfamiliar with college quiz bowl, teams of four students compete to answer questions in every academic discipline: literature, science, history, fine arts, social science, and popular culture. More than 80 teams from 23 states began competition at sectional qualifying tournaments in January, with the best 24 competing in the CCCT, which was held at Valencia College.
Sheina and her teammates practice six hours each week and spend a lot of their free time reading and preparing for tournaments.  This weekend, their hard work paid off.  Sheina was the third-highest scorer in the tournament — out of 94 players — and was named a First Team All-Star by NAQT.
"The sad fact is that African-American women are the least represented group in quiz bowl nationwide," says Valencia College's quiz bowl coach, Chris Borglum. "There have been years at the Intercollegiate Tournament in April (the four-year nationals) when the only African-American women were community college students."
"I don't think about it a lot," says Sheina, who's 19. "But when you survey the room at a tournament, you realize there's not a lot of people of color — and specifically not a lot of women of color."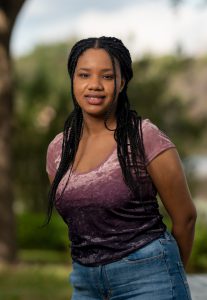 Sheina, who's studying biomedical sciences with plans to become a cardiologist, is modest about her achievements.  After last year's captain, Jesse Gingold, graduated and moved on to study at the University of Central Florida, Sheina had big shoes to fill. Although she's a science major, she prefers to focus on literature questions when it comes to quiz bowl.
"It's kind of nerve-wracking," she says. "When a big player like that leaves, you realize the gaps you have. He always covered all those gaps."
And though she's a science major, she prefers to focus on literature questions when it comes to quiz bowl.  "I play Brain Bowl to have fun, and I love literature, so that's what I focus on."
Besides, she has a supporting cast of fellow team members who all have their specialties: While Sheina focuses on literature and art — and general overall questions for the Red Team, Xander Dillman-Meyers specializes in music, history and pop culture, Tony Ferry focuses on art and architecture, plus current events and philosophy, and Arsene Tatke specializes in science  (which makes Borglum very happy — it's not often, he says, that a quiz bowl team has a science major).
Valencia's Black Team also has its specialists — Samantha Henry focuses on art, Joao Mendonca de Salim handles mythology questions and Nikolai Wolfe specializes in history and art.
Still, as the only returning player from last year — when Valencia finished second in the national community college championship — Sheina is aware that they're a young team.
"Yes, I'm the only player from last year, but they don't play like new players," she says of her teammates. "We're improving as we go along."
Now that Valencia has brought home its ninth national title,  they'll have to make room for it in the Brain Bowl trophy case — already laden with trophies from previous tournaments.
Their next test comes on April 3 and 4, when the championship team will move on to compete against university teams at the NAQT Intercollegiate Tournament in Chicago.