As a pest control specialist who makes house calls daily, Jay Ramirez, 29, is no stranger to unhappy customers. People are trying to run businesses, grow plants, or just live a clean, peaceful existence – and, at times, unwanted vermin get in the way. That's when Ramirez, a Valencia College graduate, comes to the rescue with more than just the suggested pesticides.
"We dabble in all sorts of sorcery to get the job done," says Ramirez, who now is the Lake Mary branch manager at Truly Nolen, a nationwide pest control company. "So having a degree in plant science really helps." On a recent house call, Ramirez found himself defusing a typically-tense situation – shortly after the customer's pest encounter – when he noticed the client had a collection of bonsai trees. Cue plant science.
"I used to run a side-business of selling bonsai, so I was able to have an in-depth conversation and suggest products that we offer," says Ramirez. "When customers see that you're knowledgeable and can help them in multiple ways, you can get a lot done."
Ramirez' breadth of knowledge extends beyond bonsai – and it was growing well before he even had a college degree. Raised in Miami in a Cuban-American family, he worked as a handyman in a series of odd jobs that, ultimately, led him to 9-5 employment as a small aircraft mechanic in Pompano Beach. He found a passion for plants in his free time, when he wasn't tinkering away at Cessna electrical systems. That's when he saw a CareerSource flyer encouraging students to apply to Valencia College. Upon discovering that Valencia College had a strong horticulture program – and scholarships were available – he leapt at the chance, enrolling in the fall of 2014.
In hot pursuit of an associate in science degree in plant science and agricultural technology, it wasn't long before his curiosity for all things botanical found a space to thrive. "I honestly learned so much from Dr. [Javier] Garces – and so much about entomology from Dr. [Denise] DeBusk."
In spite of balancing a full course load with a full-time night job at Home Depot, Ramirez excelled and, in just a couple of semesters, he had the plant technology chops to get a job with a local company in St. Cloud, Luv-A-Lawn Landscaping and Pest Control. "I remember the job interview," recalls Ramirez. "I went in, and the first thing they did was hand me a soil analysis sheet and asked if I could read it. Because of what I'd learned in Dr. Garces' class, it was no problem." He was hired on the spot.
Ramirez continued working and studying. He graduated from Valencia College's program in fall of 2017, and began working at Agri-Starts in Apopka, a greenhouse operation specializing in tissue-culture cloning process known as somatic embryogenesis – not to be confused with genetically-modified organisms. "Without getting too technical, it's basically a really fast and natural way to get a clone of a specific generation of plants from just the leaf cuttings," Ramirez explains.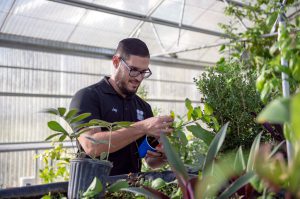 Early on in his stint at Agri-Starts, he was promoted to a managerial role in the 60,000-square-foot operation, in charge of a team of three plant-graders and overseeing greenhouse production of aquatic plants, bananas and peace lilies. Eventually, he was approached by Truly Nolen for a leadership role, in which he quickly rose to manager of the Lake Mary branch. Again, his horticulture background from Valencia College served him well, and his knowledge from the greenhouse carried over to his new job with the major pest control company.
"I was a manager-in-training, in charge of developing a call center," says Ramirez. "My team was the most informed. We relied heavily on our plant knowledge to complete sales. [At Agri-Starts] I had learned chemical names for certain commercial pesticides. One day a customer called, and he had over 200 species of hibiscus he needed to take care of with different applications. I was able to talk to him, and we made the sale. It's not every day you sell $2,500 in a day – over the phone."
In his professional life, Ramirez revels in the science of his business. His science background comes in handy when he encounters people who've been in business longer than he's been alive, but may not necessarily have the formal education. "Sometimes you have to let them talk from their experience," says Ramirez. "Others, you have to show them the reasoning behind your suggestions and what you're selling. I'm Cuban, so I can talk to you all day about folklore. But at the end of the day, plants don't grow any better if you plant them at a certain point in the moon cycle. And trees don't fruit because you beat them with a shovel. There is science behind this business and, the more you know, the more you can sell."
Ramirez is by no means leaving his scientific know-how in the office. At home, on his quarter-acre lot in St. Cloud, he and his wife tend an urban garden of niche items one might find in trendy kitchens and old recipes alike: heirloom tomatoes, Peruvian cherry peppers, super-sweet "ice cream" bananas.
For anyone considering a degree in horticulture, Ramirez hopes he or she won't underestimate the power of plants.
"A plant can hurt you or help you depending on what you know about it. People may say, 'I don't deal with plants.' Do you like to eat a steak? – well, cows eat grass. It all comes full circle," Ramirez says plainly. "[Plant science] is getting back to the basics, back to your roots – no pun intended."