When the economy hit the skids in 2007, the small engineering firm where Brian Blackwell worked downsized — a lot.
Over the next two years, Blackwell's employer — already a small specialty operation — went from 11 employees to four.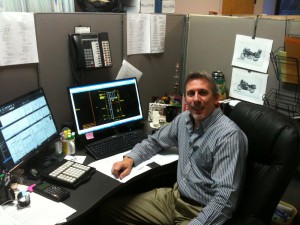 So Blackwell, a project manager, began looking for ways to make himself more valuable. The best route, he thought, would be to return to college and take some classes to bring his skills up to date.
Back when he started working in the construction business, you didn't need a  college degree, Blackwell says.  Today, it's unusual to find a project manager without one. "These are positions you couldn't get today without a degree," he says.
So college seemed like a good place to make himself more employable. At work, the company was exploring Autodesk Revit, a software program that is used to create models for architectural design, structural engineering and construction. Blackwell signed up for a few classes at Valencia, including a class that taught him how to use Revit.  "The Revit class was really good and that's what got me started," said Blackwell.
Before long, Blackwell decided to pursue an Associate in Science degree in Building Construction Technology and another in Drafting Design Technology.
For his company, which does structural engineering — and makes metal forms covered with stucco (such as those used to create Seuss Landing at Universal Studios Florida) — the skills he learned in class were valuable.
"I really enjoyed the classes. And the classes really helped me a lot in my work," Blackwell said. "While I mostly work in the design and structural side of building construction, this opened my eyes as to what the architects and estimators go through. It helped me understand what our clients are dealing with."
Because he was working full-time, Blackwell took only two or three classes each semester. "It took me four years to complete the two degrees, but the offerings were very flexible. Most of the classes were at night and some weekend classes," he said. And he found the instructors always willing to help. "I never met an instructor who did not want to help," says Blackwell.
Today, Blackwell feels more confident that he could survive another economic downturn. "If something happened to our company, I could go somewhere else, now that I've got these degrees," he said.
But he's not stopping there. Today, he's considering returning to college — to earn a bachelor's degree in engineering.
Click here for more information on Valencia's Building Construction Technology program.