Speaking on her experience as a member of the Little Rock Nine, Minnijean Brown Trickey walked Valencia College students through her historic struggle for equal opportunity in public school.
In spring of 1957, Minnijean Brown Trickey was just a 15-year-old interested in going to Little Rock Central, what she believed to be the nicest high school in the United States at the time. More than 70 students signed up to be among the first African-Americans to participate in the desegregation of Little Rock public schools; nine were admitted to attend in the fall. On the first day of the fall semester, she was caught up in a maelstrom with national implications, simply for pursuing an education.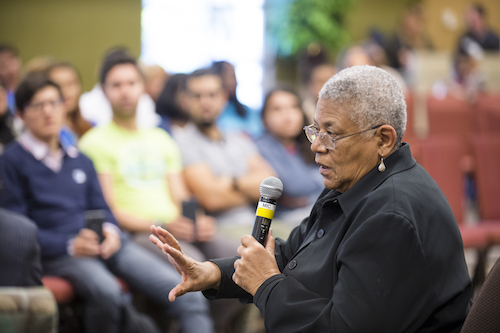 Last week, nearly sixty years later, Brown Trickey recounted her experience to a rapt audience of Valencia students and faculty. President Falecia Williams asked the guest of honor when it was that she first understood the gravity of the events that unfolded in September of 1957.
"Not until the day," Brown Trickey replied. "I walked up to the school and it sounded like a sporting event. It was that same kind of roar, only it was of one of violence and hatred."
She heard the Governor of Arkansas' stating his opposition to desegregated education, but the extent to which he would act on it did not quite sink in until the first day of school.
An angry mob supported by the Arkansas National Guard, acting under orders of the governor, kept Brown Trickey and her eight classmates out of the school initially. Eventually President Dwight D. Eisenhower would intervene, issuing an executive order that sent the 101st Airborne Division to escort the teenagers into school.
"That's the kind of executive order I like to see," Brown Trickey quipped, recalling the event that finally allowed the Little Rock Nine to begin school.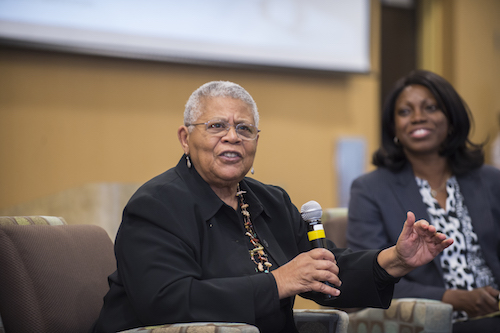 But once she had her foot in the door, the real challenge began. Brown Trickey became a regular subject of harassment simply because she "walked the halls as if she belonged there," displaying a powerful confidence that often incurred the ire of the more aggressive Little Rock Central students. Because of the random acts of terror, she had to keep a change of clothes at the school in the (all-too-frequent) event that food was thrown on her.
The student body at Central High, she said, could be divided into four categories: the Little Rock Nine; the 20 or so welcoming students who acted as allies; about 200 students that carried on a perpetual campaign of abuse and 1900 'silent witnesses.'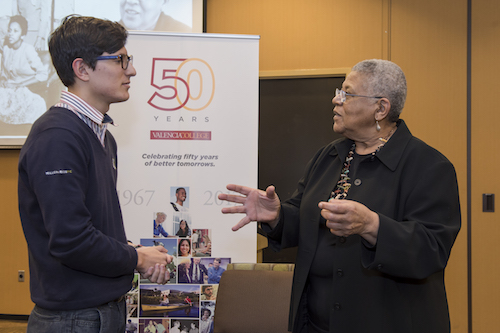 Brown Trickey would remain vigilant throughout her time at the school, until she was eventually expelled. She cited the various historical inaccuracies wrapped up in the subsequent explanations of her expulsion.
"People say that I was expelled for throwing chili onto these boys when they were the ones that rudely bumped into me," Brown Trickey recalled. "And no ever talked about the three times before that chili was dumped on me."
Her daily trials followed her home, where she was careful to hide from her parents the feelings of rage and despair. Years later, she and others of the Little Rock Nine would learn, in heartbreaking irony, that their parents were hiding the same grief of death threats and other acts of cruelty intended to disrupt the solace from their homes.
This tumultuous time, no doubt, played a role in Brown Trickey's long history of social activism, which she describes as a "life sentence." She reminded the Valencia students that they would have to confront feelings precipitated by unjust circumstances throughout their own lives.
"You have to feel those feelings of rage, fear. When you confront them they transform into courage and they transformed me into a more compassionate person."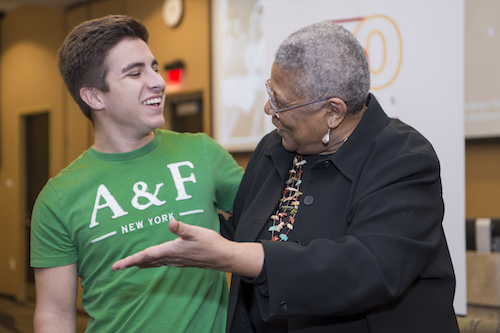 Looking back on the oppression that she has battled throughout her life she recognizes hate and segregation as "the same violent formula over and over again."
She implored the young students to recognize the change they are capable of as individuals and as a group.
"Nobody is great. Greatness is thrust upon them. Nobody is courageous, courage is a thing that we let grow within ourselves and shape us," the civil rights pioneer told the students. "So many old adages, the Chinese proverbs tell you that to climb the mountain or to take the journey of a thousand miles you have to start with a single step."
"Even though they said at first we weren't allowed to learn at Little Rock Central, that's what we did. We took the first step," declared Brown Trickey. "I had to put my foot down."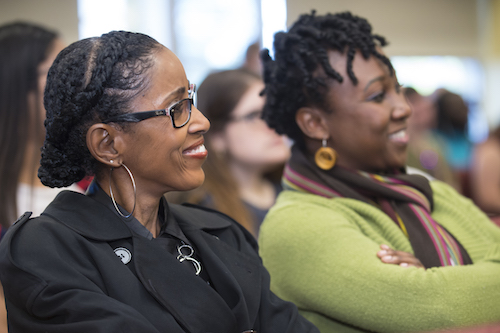 Their first steps set in motion the era of desegregation that took place in American public schools over the next 15 years.
"Back then each of those students at Little Rock made a choice to be in one of those categories: Would they be one of the twenty who were nice to us? Would they be the 200 or so that terrorized us? Or would they be one of the 1900 silent witnesses? You have that same choice today."