On Feb. 21, Valencia College's West Campus will host a dramatic reading of "The Suppliants" by Aeschylus, an ancient Greek drama centered around a chorus of 50 female refugees seeking asylum in the city of Argos. As internal struggle rocks Argos and its citizens debate whether to receive the refugees, the group of women – who fled their homeland for fear of being forced to marry – await the decision of their collective fate. The reading will be followed by a discussion on themes addressed in the text.
Directed by Bryan Doerries, this production is the latest installment in the "Theater of War" series which enlists acclaimed actors to read adaptations of ancient Greek texts, inviting audience members to draw parallels to the experiences of modern warfare and social unrest. Actors participating in this reading of "The Suppliants" will include: Josh Hamilton ("Eighth Grade"; "Manchester by the Sea"); Nandita Shenoy ("Love, Repeat"; "After Forever"); Obi Abili ("Billions"; "Delicious"); and Marjolaine Goldsmith ("Compromise"; "AfterWords").
The Theater of War productions are supported by the "Dialogues on the Experience of War" grant program, which is awarded by the National Endowment for the Humanities. Organizers intend this dramatic reading of "The Suppliants" to serve as a catalyst for discussion on current events related to human trafficking, immigration and ongoing, global refugee crises.
The subsequent panel discussion will include a local resident who is a refugee from Syria and a current Valencia College student who is a combat veteran of the war in Iraq. Any views, findings and recommendations expressed in this program do not necessarily represent those of Valencia College or the National Endowment for the Humanities.
The reading and discussion will be held in the West Campus's Special Events Center from 1 – 3 p.m. Light refreshments will be provided, and several community organizations will be present at the event. For more information on this production or the "Dialogues of War" grant program, contact Valencia College humanities professor Julie Montione at 407-582-1430.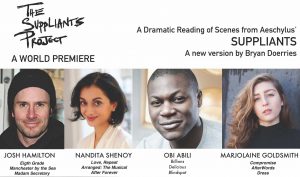 WHAT:              "The Suppliants" by Aeschylus
WHO:                 Theater of War Productions
WHEN:               Feb. 21, 1 – 3 p.m.
WHERE:                 Valencia College West Campus, Special Events Center, Building 8; 1800 South Kirkman Road, Orlando, FL 32811
TICKETS:          Free and open to the public. More info at the Valencia College events calendar.
# # #