Each Tuesday, Valencia College hospitality professor Nelson M. Placa teaches hospitality courses at the Osceola Campus. During Placa's recent lecture on equal opportunity laws in the workplace, Kayla Capen, 20, raises her hand with a question about religious rights and scheduling practices for hourly employees.
By drawing on past experience from his career with the Ritz-Carlton Hotel Company, Placa handles the topic of scheduling for a diverse staff.
It's the normal kind of teaching moment one might expect to find in the small class environments of Valencia College. However, there is something quite unusual about this class: Capen sits in a seat 25 miles away from her instructor and the other half of her "classmates."
The hospitality course is being transmitted to a classroom on Valencia College's East Campus, where Capen and seven of her peers interact with the home room at Osceola Campus via live broadcast technology. Placa's course is just one of 20 that Valencia College is offering in the Video Teleconferencing Classroom (VTC) format this semester, in disciplines ranging from criminal justice to residential property management. Funded by a Title V Hispanic Serving Institutions grant from the U.S. Department of Education, the pilot project is designed to make career and technical education more accessible to students at Valencia College's Osceola Campus. Each room is outfitted with high-definition cameras, several monitors and two-way audio equipment connecting two or three rooms at a time – virtually, as if they were one.
Title V Osceola project director Jennifer Keefe says the program started using this particular version of VTC model in spring 2017, when a paralegal course – previously available only to students at the East Campus – was broadcast to Osceola. By fall semester of 2018, students began to recognize the benefit. By the end of 2018, the college was offering more than 20 courses, with VTC-enabled rooms on the East, Osceola, Lake Nona and Poinciana campuses.
"At first it felt different, kind of awkward, but after a few sessions we got used to raising our hands and talking to the professor like it was any other class," says Capen, who lives near the East Campus, where she takes Placa's class from the VTC room.
Placa, too, was at one time reluctant about signing up for the program, unsure if he would be comfortable adopting the new technology from a teaching perspective.
"I was like, 'How am I going to keep up with two classes at once?' But it doesn't really feel like you're dealing with two classes," says Placa. "And what's interesting is that students in the VTCs are often more engaged than those in the traditional classes."
Placa has grown so accustomed to the technology that, this semester, he teaches four out of his five classes through the VTC format. His Thursday evening "Marketing and Sales in Hospitality" class broadcasts from the Osceola Campus to both Poinciana and Lake Nona campuses simultaneously.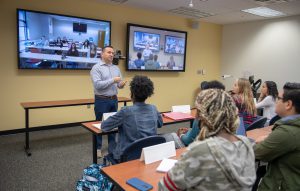 Sofia Garzon, 19, who completed a hospitality course with Placa on the Osceola Campus last semester, says that some classes would even involve discussion between students in the broadcasting and remote rooms.
"We had no problem talking with students at the other campus during class," says Garzon.
While the course search online includes a disclaimer explaining the VTCs, Keefe likes to personally introduce everybody to the courses on the first day of classes  so that students are not daunted by the unconventional format.
"Last month, I remember there was a student who I could tell was apprehensive about the whole thing before we started," recalls Keefe. "Then, another student who had already been in a VTC course sat down in the next seat over and said 'It's the best class you'll take.'"
Beyond offering classes to distant campuses, Keefe says the project has been crucial in getting enough students to sign up for classes that might otherwise be cancelled due to lack of students registering.
"The essence of this project is to expand access to career and technical education in Osceola County. If not for the VTCs, there are courses that we would just not have been able to offer for a semester," says Keefe, adding that, while the programs benefit from having students from multiple campuses in a single course section, the total class size does not increase.
In addition to providing students with the small-class experience at a more convenient location, it allows them to graduate in a timelier fashion – all without incurring the same transportation costs that often sneak up on the average college-aged motorist.
In the fall 2018 semester, Keefe ran the numbers, calculating that an East Campus student who avoids traveling to the Osceola Campus for a semester saves more than $600 in gas and tolls – not to mention time lost in countless hours battling Central Florida traffic.
"That's been one of the unintended but welcome consequences to this program," says Keefe, who also noted the project's role in increasing enrollment at the new Poinciana Campus.
The program's success has Keefe – and others involved in the VTC project – wondering if virtual interactive classrooms will become a greater part of the college's curricula in the future.
"It has been an incredible way to expand Associate in Science degrees at the Osceola Campus, while providing access and opportunity across the college," says Keefe. "[Currently,] these classrooms are full from 8 in the morning to 8 at night…We're set to open three more VTC rooms across the college by the end of 2020, including another one at the Osceola Campus."
The final VTC classroom is slated to open with the Osceola Campus's new Career in Industry and Technology building in January 2020.