Valencia culinary student Sasha Sincic has always loved brussels sprouts.
But, to get family members to share her passion for the cruciferous vegetable, she has at times added crowd-pleasing ingredients such as gruyere cheese, fontina cheese and bacon. This Thanksgiving, however, her special brussels sprouts recipe might be sprinkled with one more garnish – a dash of fame.
That's because Sasha was shocked on Wednesday morning with a surprise visit from the Today show's Al Roker and celebrity chef Sunny Anderson – who traveled to Orlando to cook Sasha's recipe with her as part of the Today Show Turkey Trot. It's a weeklong segment dedicated to foodies who love Thanksgiving – and sharing their favorite recipes.
Sasha was in her 8 a.m. catering management class on Wednesday when Al Roker barged into the West Campus classroom — and announced she'd get the chance to cook on TV with Anderson, host of the Food Network's "The Kitchen" and "Cooking for Real."
"It was kind of an out-of-body experience," says Sasha, recalling the classroom surprise. "I was like, 'What's going on?' I felt like I was the only one who was shocked by Al Roker walking into our classroom. Then he said my name and that's when I blacked out," she added, laughing.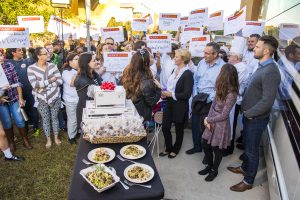 An Orlando native, Sasha has a bachelor's degree in hospitality from the University of Central Florida. Last year, she decided to enroll in culinary classes at Valencia College's West Campus to pursue her foodie dreams.
"I've always wanted to be on the Food Network," says Sasha, who's 27. "I like teaching people how to cook, so the idea of doing it for a living and for a lot of people is my dream."
Moving forward, Sasha hopes to follow her passion – and create recipes and work on menu design for restaurants. Right now, she's starting to work on her new food blog – www.thefiercefoodie.com — a website that her sister designed. Find her Brussel Sprouts Gratin on the recipe page.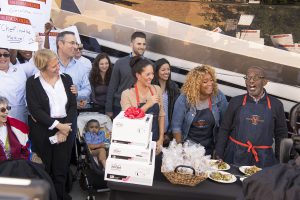 "I'm due to graduate in May," she says. "After that, I'm looking for internships. I've been looking at the Aprons brand at Publix. That's a group I'd really like to work for."
Sasha had no clue that her twin sister, Sonja, had nominated her as a contestant in the Today show's Turkey Trot contest. Nor did she know that Today show producers had spent the past week secretly phoning her sister to set up Wednesday's big surprise.
"I'm in school full time and working in downtown Orlando," Sasha says. "I've been so busy, I guess I wasn't able to pick some clues up from my boyfriend or my sister."
Sasha may have been surprised, but her parents, grandmother, twin sister and two cousins were in on the secret – and hid on campus for the Today show visit.
For her fellow culinary students – and those who aspire to work in the field – she has this advice: "I know it's cliché, but whatever dreams you have, don't let the fear of not achieving them chase you away."