Attention students: If you thought you were going to sit in the back of Dr. Hemangi Patil's biology class and sleep, you are in for a real surprise.
Patil, who teaches biology and microbiology on Valencia's West Campus, has news for you. Students in her class are expected to come to class prepared – and participate in a class activity every 15 minutes.
When students learn about cells and the cell organelles, to show that they understand, they must go to the board and label parts. Or she assigns them parts of a cell – and tells them to create a riddle that will help their classmates guess what part they are playing.
During most classes, Patil presents the microbiology students – many of them nursing students – with case studies and asks them to determine which bacteria is causing a patient's symptoms and lab results. In some cases, she takes examples straight out of the news.
"I believe students learn best from real-life examples," says Patil. For example, when news of the Zika virus in Brazil started making headlines in the United States, Patil introduced Zika virus in the lecture material– and many were thrilled to be on the cutting edge of medicine.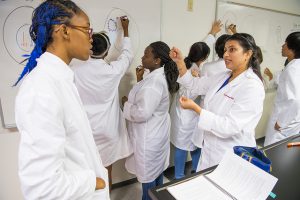 "I think a lot of people think science is difficult," says Patil. "The key is to relate it to real life. I'm there to make the students interested in current research and current terms – and then it's interesting to them."
On surveys at the end of the semester, her students note that the class never seems long. And her students rave about her on ratemyprofessor.com too. "The material for biology is tough but she was always willing to happily explain it as many times as it took for you to understand," noted one student. "It's obvious that she teaches because she literally loves it not just for the money. She shows up with a smile on her face and does a superb job!"
Why does she bring that attitude to the classroom?
"I was that student who sat on the front bench (row), always asking questions," says Patil. "I'm sure there were people who thought, 'Why are you asking so many questions?' But I wanted to learn. Learning is not a one-way process – it's a collaborative experience"
Patil, who earned her bachelor's degree in microbiology from the University of Mumbai in India, followed by her master's degree in health sciences at India's University of Pune, then earned her doctorate at Texas Woman's University in Dallas.
While at Texas Woman's University, Patil was on a team of researchers who discovered a novel protein complex in cells that could be a target for cancer therapy. Their research was published in the February 2016 issue of the Journal of Biological Chemistry along with the cover-page feature (http://www.jbc.org/content/291/7/3158.long).
Following her doctorate degree, she moved to Durham, N.C., where she worked for three years as a post-doctoral researcher at Duke University Medical Center, conducting research in the university's ophthalmology department.
Although she'd been a teaching assistant at TWU, she didn't teach at Duke, where she focused her efforts on research. (Well, she was a little busy, publishing five first author papers in her three years as a post-doc.) But when she had time to reflect, Patil discovered that she missed teaching.
When she moved back to Orlando – where her husband works in the information technology field – Patil  investigated options doing research or teaching. And she leaned toward teaching. "I missed it, I missed the reward of seeing a student understand the material."
At Valencia, she worked as an adjunct biology instructor in 2014-15, as a full time faculty in 2015-16 and, starting this fall she will be in a full-time tenure-track position.
When the West Campus science dean, Dr. Robert Gessner, watched Patil in action, he was impressed by her teaching style. "I was amazed," says Gessner, a former veterinarian and later microbiology professor at Valencia. "She had students going to the board and explaining mitosis and meiosis, in pairs. They study at home and then come into class prepared to discuss and share what they've read.  I was amazed at how they used the biology terms fluently too."
That's critical for students going into medicine, says Gessner. "If you want to be a nurse or a doctor, you're going to need to know these terms – because all your future classes will build on these classes."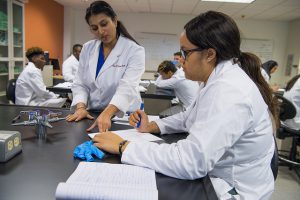 As for research, Patil is putting that on the back burner while she focuses on teaching. "Right now, teaching is my primary passion," says Patil, "but I would like to develop undergraduate research here at Valencia."
Although most of the students now taking biology classes at Valencia are health science students, Patil thinks that incorporating research opportunities for biology undergraduates would increase the number of students interested in pursuing biology, microbiology or medicine. "I think you learn better when you are involved in it," she says.
And that, says Gessner, is part of the plan at West Campus. "My goal is to get undergraduate research off the ground here," he says. "I want more students to have those opportunities, because when they apply to medical schools and graduate schools, undergraduate research is important for getting accepted."