Americans throw away more than $180 billion worth of food every year – and most of the uneaten food ends up in landfills, where it produces the greenhouse gas methane, which is 34 times more potent than carbon dioxide. Now Valencia College's West Campus is trying to change that – through a pilot recycling program that turns food waste into energy.
Starting this fall semester, Valencia College is partnering with the city of Orlando and the college's food-service provider, Valley Foods, to set up food recycling bins inside the West Campus cafeteria. The scraps collected in the cafeteria will be transported by the city to Harvest Power's anaerobic digestion facility, which converts the food waste into electricity.
And unlike composting programs, this food waste recycling program also accepts meat, bones and dairy – all of which are gobbled up by the food digester.
"Environmental sustainability is important to our students, faculty, and staff here at Valencia College," said Carrie Black, Valencia's director of energy conservation and sustainability. "We are excited to partner with the city of Orlando and Valley Food Services to offer this food scrap collection program, where, instead of food scraps going to the landfill —  the third largest source of methane emissions nationwide – the scraps will go to a regional anaerobic digester to be broken down to produce biogas to generate electricity."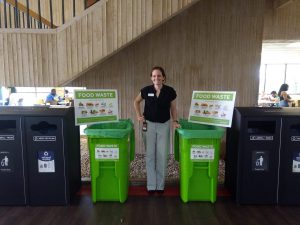 To introduce the pilot program to students, Valencia College sustainability officials and city of Orlando staffers will work alongside the waste containers in the cafeteria, educating students individually about acceptable food waste – and telling them about the importance of removing contaminants from their food scraps. Contaminants include straws, foam, utensils, bottles, chopsticks and any kind of plastic. The teams will be stationed inside the cafeteria for the first two weeks of the semester – from Aug. 26 through Sept. 6 – during the lunch and dinner hours.
The city of Orlando currently offers city residents the chance to recycle food waste —including meat, bones and dairy – at three farmer's markets around the city. The food waste collected from those locations is also sent to the anaerobic digester, where it is converted to electricity.
The college also plans to educate students at West Campus events, and post fliers around campus to remind students to separate their food waste from other landfill items.
Each month, Orlando city staffers will supply Valencia's food waste collection data. Meanwhile, the college plans to conduct surveys about the food-waste recycling program and student behavior at the beginning of the program and after the first semester.
About Valencia College's Sustainability programs
 Valencia College is one the nation's largest and most recognized community colleges with 74,000 students. In 2009, Dr. Sandy Shugart, president of Valencia College, signed the American College & University Presidents' Climate Commitment, committing to carbon neutrality by 2060. Since that time, the college has constructed all new buildings to LEED or Green Globe Standards, been named a national winner in waste minimization and has installed state-of-the art, energy-efficient water cooling systems significantly reducing utility costs for the college. The college has proactively addressed vehicle commuting emissions by installing electric-vehicle charging stations, bicycle pathways and bike repair stations, and established a partnership with Lynx that provides free bus rides to college students and staff.