When news broke that hackers had attacked Sony Pictures Entertainment's computer system — and released five films to piracy networks — film students at Valencia College paid attention.
That's because one of the stolen films, "To Write Love on Her Arms," was filmed in Orlando with the help of 42 Valencia film students.
The hack resulted in five Sony films — including "Fury" and unreleased movies such as "Annie," "Mr. Turner," and "To Write Love on Her Arms" — being stolen and posted to piracy networks.
And last week, one of the filmmakers associated with "To Write Love on Her Arms" was on campus, giving students a four-day seminar on film production.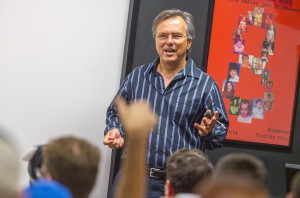 For Paul Sirmons, who served as the film's production manager, and the film's producers, the piracy has been a double-edged sword. Although the hacking has drawn media attention — because it was one of only five films stolen — it could hurt the small filmmakers behind the movie.
Originally named "Renee" and then renamed "Day One," the film was originally scheduled to be released in March 2015. Now , however the film has already been illegally downloaded 20,000 times.
"This is really a shame," said Sirmons. "Although their intent is to hurt Sony, what they're doing is hurting people who make small films."
The film tells the story of a Central Florida teenager, Renee Yohe, who loved music and fairy tales – and found joy when she pulled on her headphones and imagined a life that ends happily ever after. But Renee couldn't escape depression, and turned to drugs, alcohol and even self-mutilation to cope with the pain. Finally, in desperation, she reached out for help – and a circle of friends banded together to get her into drug rehab. Before she could get admitted to a rehab facility, however, she had to get the drugs out of her system.
The movie chronicles those five intense days when Renee (played by Kat Dennings of TV's "2 Broke Girls") tries to get clean and sober with the help of David McKenna, a recovering alcoholic and former addict, and surfer/musician Jamie Tworkowski, along with two of Renee's high school friends.
That weeklong ordeal moved Tworkowski to start a blog called "To Write Love on Her Arms." The blog, which tries to help people struggling with depression, addiction, self-injury and suicide, has touched teens and young adults — and launched a charity that has become a movement in the music industry.
In addition to Dennings, the script also attracted more big-name stars, including Rupert Friend (whose credits include "Pride and Prejudice" and "The Young Victoria") who plays McKenna, and Chad Michael Murray (of TV's "One Tree Hill"), who plays Tworkowski. Supporting actors include Corbin Bleu ("High School Musical") and Mark Saul ("The Social Network," "Grey's Anatomy").
With a $3.4 million budget, the film was shot primarily in downtown Orlando with a 70-member union crew and 43 students from Valencia's film production program. The students tackled jobs that professionals usually handle, from payroll clerk to handling all the contracts and travel arrangements. Whether they were working in the sound department or with set decorators and prop masters, the students learned alongside the pros.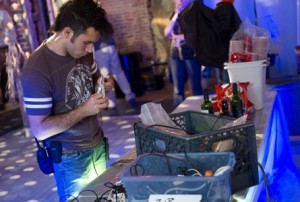 The film premiered in 2012 at the Omaha Film Festival and producers had been trying to find a distributor to give it a wider release.
Now, however, they're not certain what will happen to the film, as a result of the hackers.
"We don't know what its impact will be to us. It's all new to us and we're still reeling from it," Sirmons said. "But we know we have a very powerful movie that can change people's lives — and that's most important to us."
On the other hand, the attention from the news media could help them spread word about this small, independent film.
"We know it's not good news," says Sirmons, "but we were on the 'Today' show and we've been on 'NBC Nightly News.' I'm not sure we would have gotten that kind of attention otherwise."