ORLANDO — Allie Erickson's mom spent her career working as a nurse.
But when Allie was ready for college, her mom suggested that she explore allied health professions, jobs that range from dental hygienist to sonographer.
After exploring some of her options, Allie decided to follow in the footsteps of her brother, Kenny, who was studying in the Respiratory Care program at Valencia College.
Shortly after Kenny earned his A.S. degree, he landed a job at Orlando Regional Medical Center. Allie was right behind him; after graduation in 2013, she started work at Central Florida Regional Hospital in Sanford.
So when Valencia launched its bachelor's degree in Cardiopulmonary Sciences in January 2014, both Kenny and Allie both signed up.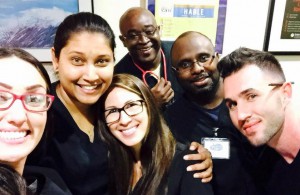 Today, they're among a group of six students who are moving so quickly through the program that they're scheduled to graduate with their bachelor's degrees in December 2014 – a full year ahead of schedule.
To earn the degree in two years, students take an average of two classes each semester. But Allie, 26, decided she could handle four classes each semester.
"I only work three days a week," she says. "It's three, 12-hour shifts so unless I pick up some overtime, I have four days a week to devote to classes."
Because all but one of the classes are held online, working students have the flexibility to juggle their coursework with their jobs. The only class that isn't available online is a service-learning course, which requires the students to volunteer at a local clinic or the American Lung Association or the American Heart Association. And even those volunteer times can be scheduled around a student's work hours, says Sharon Shenton, program chair for Valencia's Cardiopulmonary Sciences program.
In less than a year, the program has become popular among working respiratory therapists and cardiovascular technologists. Forty students are in the program now and college officials anticipate adding another 20 in the spring semester. For them, earning a bachelor's degree will qualify them for management jobs – or they may choose to head to graduate school to become a physician's assistant.
"I want to advance," says Allie Erickson, "but I also feel like eventually the hospitals are going to require (a bachelor's degree.) Nursing has already adopted it."
And she also has her eyes on grad school; one day, she'd like to become a physician's assistant.
"This is the perfect transition for respiratory therapists or cardiovascular techs if they're interested in becoming a physician's assistant," says Shenton. Most students who are interested in becoming physicians' assistants must take some additional science classes, she notes, but the bachelor's degree program will offer many of the classes they'll need.
But the best feature of the program, says Shenton, is the flexibility that is designed for working professionals. "The good thing about our program is that you can take one or two classes at a time – or you can take more," says Shenton. "I think the ones who are finishing in a year are kind of extraordinary."