Growing up watching space shuttle launches from her backyard in Orlando, Jillian Gloria set her sights on one goal: Becoming an astronaut.
The path toward that goal has veered and wobbled at times, but Gloria is unsinkable. And she has never let others quash her dreams.
That's why today, at 29, she's studying aerospace engineering at UCF, working on internships and NASA-related projects and serves as a mentor to students who also want to pursue a STEM degree, but are worried they can't cut it.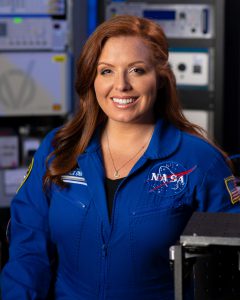 She has also started an Instagram page about space exploration and STEM and has more than 10,000 followers. (You can follow her at @enjillneer on Instagram.)
"When I started my academic journey, there were kids who wanted to be astronauts, but there was no one talking about the realistic path to become one and how hard it is," she says. "I just think it's so important to be transparent. STEM is different than other majors, they say as long as you score around the average you'll pass! That's proven to be true multiple times where the average on an exam was 40/100, but with the curve you end up getting a 'B'. I had a really hard time with that, before I got into engineering I was making mostly As and Bs and I remember feeling like such a failure because I had to repeat a few classes. A lot of people give up when that happens; I was advised to give up. What I didn't realize at the time was that a lot of those STEM classes thoroughly cover complex topics and most students have to repeat classes like Calculus, Physics, and Statics in order to fully comprehend all that's being thrown at them."
Indeed, there were times when she was ready to give up.
Gloria's journey – from self-assured high school senior to one who doubted she would ever achieve her goal and then back again, to space geek with renewed confidence – started in Texas.
After graduating from high school in Arlington, Texas – where she had moved during her junior year – Gloria was accepted by her dream school, Embry-Riddle Aeronautical University in Daytona Beach, but she couldn't afford it, so she decided to enroll at the University of Texas at Arlington.
"When I started college I was making decent grades, a few As mostly Bs, but every semester when I met with my advisor, they constantly tried to talk me out of engineering because I started off in low-level mathematics, algebra." Gloria recalls. "It was a struggle. I couldn't understand why, if I showed such a strong interest in space and STEM, I was told over and over again to pursue a 'realistic' degree, one that could be finished in a four-year degree plan, like business. I finally convinced them to declare my major as aerospace engineering, and ultimately  ended up doing poorly failing physics and calculus due to the lack of learning support at the university."
But the experience taught her an important lesson. Although many educators and guest speakers tell kids – especially in elementary school and middle school – to pursue STEM careers, they don't equip them for how hard the courses will be – and what to do if you are struggling.
Discouraged, Gloria moved back to Florida in 2015 and worked until she obtained residency. She never stopped wanting a college education, so she transferred to Valencia College and tried again to pursue a degree in aerospace engineering. At Valencia, she met with advisors, who didn't frown on her bad grades but who understood there was a need for support.
Valencia also opened up opportunities that wouldn't have been available to her at a four-year university. Through multiple pilot programs with Valencia, she landed internships and undergraduate research opportunities (REUs) with organizations such as Siemens and NASA.
At Valencia, she also connected with a STEM advisor, who not only gave her tangible academic goals to achieve, but who consistently provided her with opportunities to build her resume. Like a summer internship at Siemens Energy and her very first Research Experience for Undergraduates (REU) through the UCF PREP (Physics Research Exchange Program), which provides students currently enrolled at UCF DirectConnect partnering institutions with 10-week summer research experiences in laboratories in UCF's physics department.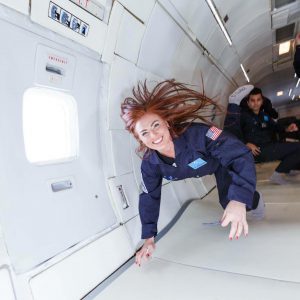 In that program, Gloria conducted NASA-funded research and became a published author for her undergraduate research at UCF, investigating the effects of solar and galactic radiation at the surface of airless bodies in space like the moon, Mars, and near-Earth asteroids.
"Valencia saved me and saved my dreams," says Gloria. "I wouldn't be here without the tutoring center. I was never great at math… I tried to take physics for fun in high school… it was just too hard , I didn't understand it. The math tutors at Valencia surpass any level of personal tutoring you can buy!  They truly care about the academic success of their students, and I'm living proof. They walked me all the way from college algebra through differential equations."
Eventually, Gloria even became a tutor at Valencia – first in math and then in physics.
For the past two years, Gloria has been working at Exolith Lab, a UCF lab that makes the highest-fidelity "moon dirt" for NASA and over 1,000 organizations worldwide. Recently, she was accepted into a new research group that is studying the stresses that materials undergo at hypersonic speeds.
"The cool thing about that is — it's via a partnership with the German Aerospace Center (DLR) so I'll have the opportunity to complete my experiments in Germany in the future," says Gloria. Even with a GPA that is barely 3.0 – which she must have for a NASA internship – she has managed work on multiple NASA-funded initiatives.
And she offers this advice for Valencia students who have stumbled academically – and are trying to resurrect their GPAs.
"I know it's discouraging," she says. "I still can't get an internship at NASA because of my GPA. But you have to try to think outside the box. Even if you can't apply somewhere that has a strict GPA requirement, there are so many different opportunities that you can take part in. For my REU, there wasn't a hard GPA requirement."
"If one door's closed, find another way. If you're passionate about something, there's nothing that's going to stop you as long as you have the passion and perseverance to bring that dream to fruition."