After graduating from high school, Christina Diaz couldn't envision her future.
She'd just gotten married and didn't have much money for school. But she worried that taking time off would stall her education, so she signed up for classes at Valencia College.
Christina was working as a cashier at Walmart, and began taking classes in business administration. But when her mother – who worked for the Orange County Fire Department – suggested that Christina do a ride-along with the fire prevention department, that changed the trajectory of Christina's career.
Christina, who would go on to earn an Associate in Science degree in fire science from Valencia, was named the State Fire Marshal of the Year in 2020.
But in the beginning, she was just a kid out of Oak Ridge High School, trying to find her way into an interesting career.  After participating in a ride-along with the fire department, Christina began taking classes to become a fire inspector.
"My mom is my role model," says Christina. "She has always driven me and pushed me. So it seems natural that I would follow her lead."
Indeed, Christina's mom had moved her family out of the projects of Brooklyn, and moved the family to Orlando, where she worked as a fire inspector and a school safety inspector for Orange County. Along the way, she inspected so many daycare facilities that she eventually left the county and opened her own daycare.
"As a kid, I really did not know what she did," says Christina. "But seeing her working her way up and seeing her drive, that was a great inspiration in itself."
As for Christina, she seems to have inherited her mom's drive.
Not long after Christina earned her fire inspector certification, she applied for an opening at Orange County and landed the job. "I was the youngest fire inspector in Orange County ever," she recalls. "I got hired a week after my 21st birthday."
But that was just the beginning.  Christina has steadily moved up the ranks and has returned to school to further her education – and her career.  For instance, when discovered that she needed her A.S. degree in fire science to qualify for a job as an assistant fire marshal, she went back to school at Valencia.
And after she became a fire marshal in Seminole County, she knew she needed more education and experience.
"When I came in, I was just a civilian. But when I became a fire marshal, I'm looked at like an assistant chief level," she says. She realized, however, that until she had earned her certification as a firefighter, she might not be taken as seriously as those who had that experience.
"Being a woman in the fire service is not easy. Sometimes women are not respected as highly as men. I feel like I've always had to hold myself at a certain level and demand respect, sometimes. I've always had to conduct myself in a manner that affords respect."
Determined to hold her own and earn respect from her peers, Christina started taking classes to become an EMT and a firefighter. "I had to do it nights and weekends," says Christina, whose two kids and husband were supportive during those long months. "So every night at 5:30, I'd change clothes in my office and report to class and stay until 10:30."
At 5-foot-1, Christina found some of the physical tests challenging, but pushed her way through.
"As a woman , I had to work harder. The guys had it easier because they had an advantage in height and strength," she says.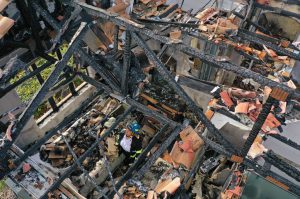 Yet her love for the job drives her to continually improve – and serve her community.
"As a fire inspector, it's my job to educate," she says. "We enforce the fire code. We're code enforcement inspectors. So when plans are submitted for new construction, we examine those. We make sure they have enough exits, that there's sprinkler systems and fire alarms and they are to code."
She also tries to educate the public. "These codes did not come out of thin air," she says. "These codes were developed because of tragic incidents. Schools have sprinkler systems because there had been tragic deaths. So I use that history to inform people – and help them understand the codes that I enforce now."
She's grateful for the education she received at Valencia College. "Now, 15 years into my career, I feel that the classes that I took were all related to what you need to know in the field. I was able to make the connection between what I learned in the classroom and what I needed in the job setting," she says. "I've taken classes for other certifications .. and you're not always able to make the connection."