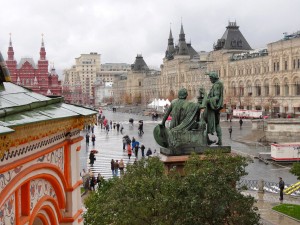 How has Russia evolved since the collapse of the Soviet Union – and what is life like in Russia today? Join Fulbright Scholar Steve Cunningham as he shares his observations at two free, public lectures to be held at Valencia College's Osceola and West campuses.
Cunningham, who teaches English as a Second Language at Valencia College, traveled to Russia in the fall of 2011 and spent a semester there teaching English at the Humanities and Technology Institute in the city of Orsk. While there, he trained other English teachers how to incorporate educational technology into their language classes.
At the lectures, Cunningham will discuss Russia's educational system, the standard of living in Russia and how it compares to other nations, and how social media and technology are changing the balance of power in Russia.
The Osceola lecture will be held on April 3 from 1:30 to 2:15 p.m. at Valencia's Osceola Campus, located at 1800 Denn John Lane, Kissimmee. The lecture will take place in Building 2, room 232.
The lecture on West Campus will be held on April 5 from 5 to 6 p.m. in room 211 of the Health Sciences building. Valencia's West Campus is located at 1800 S. Kirkman Road, Orlando.