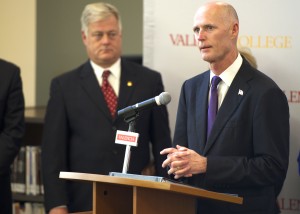 Gov. Rick Scott visited Valencia College's Lake Nona Campus on Monday, Nov. 26, and issued a challenge to the state's two-year colleges: Create bachelor's degree programs that will cost students $10,000 or less.
"I am issuing a challenge to our state colleges to find innovative ways to offer a bachelor's degree at a cost of just $10,000 in fields that will provide graduates with the best opportunity for employment," Scott said.
At Valencia, the governor was met by the presidents of several area colleges, who said they are working on such programs.
"Governor, you have come to the right place," said Dr. Sandy Shugart, president of Valencia College.  "We in the community college system care about affordability."
Shugart noted that while the cost of tuition has skyrocketed in the private sector over the past 40 years, community colleges have raised tuition only 1 percent, when prices are adjusted for inflation.
To answer the governor's challenge, Valencia officials are planning to cut the cost of a bachelor's degree in electrical and computer engineering technology to under $10,000 — which they would do by steeply discounting tuition in the final year of the program for students who qualify. The idea, said Shugart, is to provide incentive for students to stay in college and earn their degree. The electrical and computer engineering technology program, which is based on Valencia's West Campus, is one of two bachelor's degree programs that Valencia offers.
At Monday's press conference, other college presidents also offered up the outline of basic plans. At Seminole State College, president Ann McGee said her college will offer a bachelor's degree in construction for under $10,000, and will fund the cost cuts by using scholarship money provided by local industry. At Daytona State College, officials said that if students come to college with 15 college credits already — earned through dual enrollment or Advanced Placement classes taken during high school — they could earn any of the college's bachelor's degree programs for under $10,000.
Valencia's B.S. in electrical and computer engineering technology was developed in partnership with local engineering professionals and industries to prepare engineering technologists for the growing number of jobs that deal with application, manufacturing, implementation, engineering operation and production — as opposed to the conceptual design and research functions performed by certified professional engineers. Engineering technologists translate the plans and designs of an engineer into actual products and technologies related to robots and robotic devices, space communication systems, lasers and electro-optical devices, telecommunication systems, navigation systems, wireless and mobile networks, power plants, fuel and solar energy cells, transportation systems and many more.
The Labor Market Statistics Center of the Florida Department of Education projects there will be more than 450 openings annually for electrical engineers and engineering technologists in 2013. And earnings for graduates in that sector are high. In 2010 (the most recent data available),Valencia students who graduated with an Associate in Science degree in electrical engineering technology earned an average of $57,448, according to the Florida Education and Training Placement Information Program.
Employers who have hired Valencia graduates applaud the college's plans.
"We are pleased to learn that Valencia College will be offering even more affordable opportunities for students to earn a bachelor's degree in electrical and computer engineering technology," said Alex Fong, senior vice president of Gooch and Housego,which manufactures precision optical components. "At a time when many college graduates are struggling to find jobs, engineering, particularly electrical and computer engineering with a specialization such as photonics offers graduates tremendous opportunities.  In fact, at Gooch and Housego, we've hired recent Valencia grads and we look forward to working with Valencia graduates in the future. Moreover, these are skills that can be applied and are needed in a broad variety of industries. Training in engineering sciences provides incredible flexibility in terms of career options and is a great return on investment!"