Leif Boman knows how to make the most of an education.
During his time at Valencia College he studied botany and photography, pursuits that eventually led him on a study abroad adventure to India. After graduation, he returned to the college to manage the East Campus greenhouse, where his love of the natural world blossomed into a full-time job with Florida's Department of Environmental Protection. At DEP, he collects water and soil samples for scientific review.
On hikes, Boman has a knack for spotting tiny yet fascinating natural treasures. Recently, while on a sample-gathering expedition in Volusia County, he stumbled upon the rare, endangered fern Schizaea pennula, a picky species rarely found outside of Palm Beach County.
"It's really an unimpressive-looking fern, but it's exciting for me, to say the least, as I always remember thinking how it would be neat to find that exact fern and there I was stumbling across it, far out of its range," says Boman.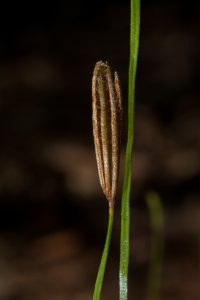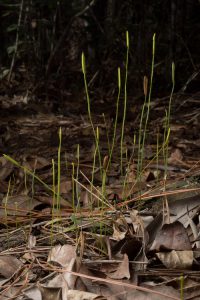 For more examples of Boman's keen eye and passion for nature, enjoy the following photo essay the Valencia College graduate compiled with us in 2017…
Boman's amazing trajectory revolving around plants, biology, travel and photography began in 2007. Enrolling at Valencia with little more than an interest in horticulture, he spent two years balancing a busy work schedule with the journey to find his desired field of study. Then, in 2009, biology professor Steve Myers introduced Boman to Valencia College's study-abroad programs.
The Nature Photography course he took on East Campus sharpened his vision and awareness in the field. The picture above, for instance, shows a small frog peering through muddy water, — a visually-striking scene which he spotted on a hike in southern India with his Valencia study-abroad group. While in India, Boman picked up yet another skill, as his group learned from members of the local Irula tribe on how to identify and capture venomous snakes. The Irula are renowned for their snake-tracking abilities.
Back at Valencia in 2010, the college's new greenhouse opened under the leadership of Professor Myers. Boman began working there, helping to manage the collection of the plants that he and Myers curated for the space.
Boman describes the pitcher plant (shown below) as "one of the many oddities that resides in the greenhouse." Issuing viscous fluids along its smooth inner walls, the Nepenthes mirabilis entices insects with a nectar that traps them inside.
In 2011, Myers' Neotropical Ecology study-abroad course took Boman to the interior rainforests of Guyana in South America. Pictured (below) in panorama is the Potaro River and Kaieteur Falls, the world's largest single-drop waterfall, which is determined by the volume of water flowing through the fall at a given time.
While in Guyana, members of the group spent a day hiking to their camping spot in the interior of the rainforest. The next morning, Boman set out to find this bumblebee dart frog, known for its bright colors and the toxins it produces for self-defense. Amerindians have used these toxins for coating hunting arrows and darts to help bring down prey in the jungle.
Pictured above, a local villager living in the Rewa River valley in Guyana prepares cassava, a Latin American staple. Without proper processing techniques, many varieties of the cassava root can be poisonous. But when prepared correctly, its high carbohydrate levels are a valuable source of energy.
As a part-time employee of the greenhouse, Boman often gave tours of the facility and its diverse collection of flora. Pictured is a Florida native fern that he loved to show visitors during his stint at the Valencia greenhouse.
This Ophioglossum petiolatum fern sports hundreds of pairs of chromosomes, and is a close relative to the Ophioglossum reticulatum fern which has 1,260 chromosomes, or 630 pairs — more chromosome pairs than any living organism.
Eager to revisit India, Boman returned on his own in 2014, traveling various parts of the expansive country.
In Hampi, a local fisherman gave Boman and his travel buddy a tour of a lake in a small, handwoven boat.
In Jodhpur, many of the buildings are painted a vibrant blue.
In addition to being psychologically soothing, the blue color is said to help keep the buildings cool as well as repel biting insects.
Pushkar, India has an annual camel festival. While visiting, Boman and his partner befriended a nomadic family on the outskirts of the city, spending two days with them sharing dinner, drinks and receiving traditional henna in their makeshift home.
Back in Florida, he cultivated a deep interest in the carnivorous plants of his home state, and set out to create a comprehensive field guide documenting nearly 50 native carnivorous plants of Florida.
In April 2016, Boman parlayed his passion for ecology and natural Florida into a job with Florida's Department of Environmental Protection.
As an environmental specialist, he spends the work week traveling to different bodies of water throughout the Central Florida region to collect water samples, conduct plant surveys, and take meter readings.
Through his work, he also visits little-known Florida springs which are not open to the public. Shown here is a large and diverse population of fish inhabiting a small spring in Lake County.
Valencia College congratulates Leif Boman on his success as a visually-gifted, eco-warrior.
To learn more about the more than 120 programs offered at Valencia College, visit our future students website.