As a high-school student in Venezuela, Jose Medina was frustrated by the shortages of food and necessities that he and his fellow Venezuelans faced on a regular basis – and angry that the government did little to prevent the shortages.
Angry, he and his friends joined in protests against the government. But the young protesters were frequently arrested and thrown in jail. Some of Jose's friends were arrested for filming a protest and posting it on social media.
His family began worrying about Jose's safety too. His mother, a teacher, was being watched by authorities.
"They were scared about everything that was going on," says Jose. "They said we love you, but I don't think you're safe here."
So at the age of 17, Jose left his home in Venezuela and fled to Traverse City, Michigan, where the Medinas had family friends who'd already fled Venezuela.  There, knowing no English, Jose started his senior year of high school. "My first day of high school , I didn't speak English at all," he recalls. "It was terrifying."
But Jose persisted. After graduation, he quickly landed a landscaping job but, when Michigan's harsh winter arrived, he was laid off. Looking for more steady work, Jose moved to Orlando, where he landed in the embrace of the area's large Venezuelan community, and began working at Universal Studios in the parking division. The job was steady and enabled him to save some money and send money home to his family in Venezuela, including his mother and three sisters, his grandparents and his uncles.
"I send money home, but it's not as much as I'd like," says Jose, now 22.
When the pandemic hit, though, Jose was dealt another blow. Universal Studios shuttered its gates and Jose got laid off.  He began making deliveries for Amazon, trying to earn some money.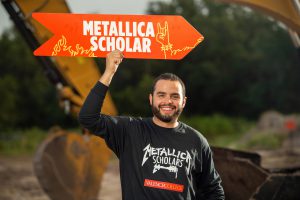 But when he learned that Valencia College offers a 10-week training program to teach students how to operate heavy construction equipment such as bulldozers and front-end loaders, Jose signed up. "I grew up on a farm in Venezuela, so I like being outside. Working in the park was awesome, but it's nothing like working the machinery and working on road projects," he says.
Now, thanks to a grant from Metallica's All Within My Hands Foundation which helped pay a portion of his tuition, Jose is a #MetallicaScholar, training for a new career here in the United States while he awaits word on his application for political asylum.
"I want to pay back this country for giving me an education and a job. I want to pay back by working on road projects," he says.