Today, Russ Simon is a  a globe-trotting chef, a man who dashes from London to Los Angeles, from Singapore to Las Vegas, opening new restaurants for celebrity chef Wolfgang Puck.  
But 13 years ago, Simon was a business management major at the University of Central Florida student, enjoying fraternity life, when he realized that his future career path wasn't going to make him happy.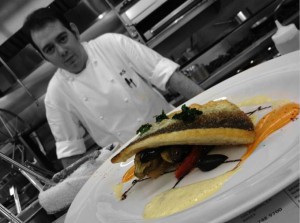 So Simon, who'd grown up in Davie, Fla, as the eldest of four kids, signed up for culinary classes at Valencia.  He already felt at home in kitchens, having served as the chief cook when his parents weren't at home.
At Valencia, Simon spent his first semester cooking in the small cafeteria kitchen on East Campus, and was in the first class of students to move into the new culinary facilities on West Campus that fall.  Simon, along with chefs Ken and Pierre and the students in the class, unpacked the new pots and pans and stocked the new kitchen. To this day, Simon loves a new kitchen, with shiny new equipment.
"I think that's why I love opening new restaurants – I think it dates back to that," says Simon, laughing.
At the same time that he began taking culinary classes, Simon also started working at Wolfgang Puck Express in Downtown Disney. The small, fast-casual restaurant, which made pizzas and roast chicken and quick meals, proved to be the perfect proving ground for a hard-worker willing to learn.
"While I was working in the Express, I was basically going through all the basic (culinary) classes, learning sauces, pastry, garde manger," Simon says.  "Then at nighttime, I'd go to this restaurant and work in a very high-volume environment — and I could see where the skills I was learning during the day would pay off."
It was also the start of a very happy and lengthy relationship between a budding chef and his employer.  Soon, Simon was promoted to work as a cook in the Wolfgang Puck Café at Downtown Disney – a sit-down restaurant where he would learn more about sauces and soups and a wider variety of kitchen skills.  It was time, he says with a laugh, to start doing "big-boy cooking."
Before long, he was helping to open new Wolfgang Puck Express and Bistro locations around the country.  So in 2004, when he met Puck in person – and the famous chef asked where Simon would like to work — the recent Valencia grad had a ready answer: Spago Beverly Hills.
"If I was going to go anywhere, that's where I wanted to go – to Los Angeles to give it a shot," he says.  During Simon's tenure there, the executive chef won a James Beard award and the Beverly Hills Spago earned a two-star Michelin rating.
Since then, Simon has been jet-setting around the globe, opening a Spago in Colorado, a new steakhouse, CUT, in Las Vegas, then to Singapore to open a CUT there, followed by a stint in London, where he opened a new CUT in a boutique hotel. And there have been more forays in Los Angeles, where he helped open a new Puck restaurant in the renovated Hotel Bel Air.
Over the years, he has worked with famous chefs, including Daniel Boulud, Santi Santamaria, Mario Batali and Thomas Keller.
"I was very fortunate," says Simon, who's 35. "A lot of times, I happened to be in the right place at the right time. My hard work had something to do with it, I worked hard, but so did a lot of other guys." In fact, he says, he and a band of other cooks who started with him as line cooks at Spago in Beverly Hills are now executive chefs and chefs de cuisine throughout the fast-growing company.
Now he's back in Las Vegas, now at the helm of Postrio, a 15-year-old Italian themed restaurant that the Puck group operates in the Venetian hotel. And now Simon is reaching out to Chef Ken Bourgoin and Chef Pierre Pilloud, to see if there are any young, hard-working chefs on the rise, who would like to work in Las Vegas.
"We're looking for new talent," says Simon, " and I thought I'd call Chef Pierre and see what kind of talent is there."
And for students seeking career guidance, Simon dispenses some simple advice: "At the end of the day, hard work does truly pay off. If you take the time not to just study and learn, but spend time in the kitchen to perfect our craft, it will pay off."