Fernando Perez was just two classes away from graduating at Valencia College with his associate's degree in December 2015 when he discovered a few unusual nodules under his arm and in his neck. But he wasn't about to slow down, not when he was so close to finishing the degree he had worked toward since 2012. He was a healthy 26-year-old who was about to be a college graduate; nothing could stop him.
That all changed only a few short weeks into January 2016, when his condition worsened. Suddenly unable to breathe, Fernando landed in the emergency room and faced a diagnosis no family is ever prepared to hear; the nodules were a sign of stage 2 Hodgkin's lymphoma.
Most of us tend to think that when a cancer diagnosis strikes a family, the news would be shattering. In even the best cases, hope can be difficult to find when the word first comes crashing into our lives. But Fernando took on the challenge of beating his cancer head and heart first.
"When my doctor came in and told me it was cancer I just thought, 'Oh my God,' and then I realized, 'I can do this,'" Fernando recalled. "Life will throw punches all the time, but you can either stay on the floor and give up, or stand up and fight for your dreams until God says 'Enough!' "
With his team of doctors, family, and his steady faith on his side, he beat the cancer with rigorous chemotherapy treatments that lasted for eight months. However, it was only a few months later that the cancer reappeared in the same places, at the same stage. This time he was referred to the Moffitt Cancer Center in Tampa Bay for specialized treatment and a bone marrow transplant. But the excitement of beating the cancer for a second time didn't last long.
He was only 29 when it came back for the third time just two months later in December 2017. Fernando just couldn't seem to shake the disease. However, his faith never wavered as he endured another year of immunotherapy, a type of chemotherapy with less aggressive side effects.
After a year-long course of immunotherapy, this time the treatment seemed to take hold and Fernando has remained cancer free since December 2018.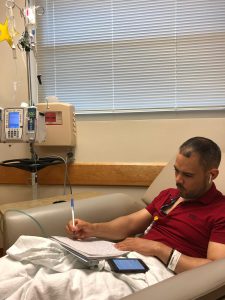 "Life is a gift given by God," Fernando said. "As a three-time cancer survivor, I do believe that just the simple fact of opening your eyes every day is a blessing given by God."
While the cancer may have forced Fernando to slow down in his physical activities, nothing could stop his determination to continue his time at Valencia. Although Fernando's then-delicate immune system prevented him from continuing his on-campus experience, there was no way he was going to let it affect his educational journey. Throughout his immunotherapy and recovery, he worked hand-in-hand with his professors at Valencia to ensure that he could continue to pursue his passion for learning and put himself on course to obtain six technical business certificates from 2019–2020.
After accumulating so many credits, Fernando set his sights on his next goal: Earning his Bachelor of Applied Science in Business and Organizational Leadership (BASBOL). His advisors at Valencia, Alex Torres and Anderson Perez, encouraged him to continue his studies online for the sake of his health.
"Alex was always there when I needed him, from day one until my last day with Valencia," Fernando said. "And Anderson was the person who gave me hope when I was lost and confused…That is the reason I really applaud both advisors for such an amazing job, motivating and helping students like myself."
The enthusiasm was mutual between Fernando and his advisors. After meeting Alex in 2019 for financial aid help, the two found each other in close contact throughout the completion of Fernando's certificate programs. Together they looked at his options for his next steps while attending Valencia, which led to his decision to enroll in the BASBOL program.
"Fernando always came to see me with a huge smile on his face [and] was always upbeat and excited about finishing his degree," Alex said. "I am humbled to have been able to meet such a determined and courageous student…and I am so happy Fernando completed his BASBOL degree and overcame the numerous challenges he faced."
Since going into remission in December 2018, Fernando continues to go to the Moffitt Cancer Center every three months for PET scans to ensure that he remains cancer-free. So far he said his body is "perfectly fine" and "thankfully God and [his] doctors are taking good care of [his] health."
As for his education, Fernando said he's not finished yet. After completing all six of his business certificate programs, graduating with honors with his bachelor's degree in 2020, being accepted into Phi Theta Kappa Honor Society, and picking up a new job as a shipping and receiving coordinator for Walmart's Shipping and Distribution Center, Fernando already has a master's degree on his mind – and hopes to start his own company someday.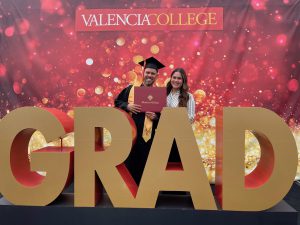 While his career, education and life will continue on past Valencia, Fernando credits the  "respect, love and support" he received from all of his professors and advisors at the college for helping him lay the foundation of his future.
"Valencia College is one of the best options for a student pursuing their academic dreams…I was not able to attend college in person due to the risks of my condition [but] I was able to take care of my health while finishing my bachelor's degree," Fernando said. "Thank you to all my professors that made this dream possible…Thank you for never giving up on me and for the opportunity to show the world that with the right mentality you can achieve anything."