Sue Thompson wants to change the world – with her photographs.
Trained as a fine artist, she has created sculptures, paintings and even owned an advertising company at one point. But today, Thompson is a peace activist who carries her camera with her everywhere.
"We are all witnesses to history," says Thompson. "I may not be a writer, but with my camera, I can take a photo that captures that moment."
She was in Tunisia at the beginning of the Arab spring. She has visited refugee campus, full of Syrians fleeing their country's civil war.  She has spent time in the West Bank of Jerusalem, photographing the conflict between Palestinians and Israeli soldiers.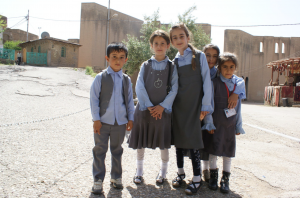 But she has also turned her camera on events at home – capturing photos in 2015, as thousands of Americans marched across the Edmund Pettus Bridge in Selma, Ala., to honor the 50th anniversary of Martin Luther King's walk across the same bridge in 1965, when 500 civil-rights demonstrators were attacked by police.
Her heroine is Dorothea Lange – a photographer famous for documenting sharecroppers, farmers and migrant workers during the Great Depression – and herself a woman who was humbled and molded by a permanent limp, left over from a childhood bout with polio.
Like Lange, Sue Thompson is also humbled and molded by her own childhood – one spent moving from town to town, state to state, following harvests. "We picked cherries in Michigan, apples in New York, oranges in Florida and some summers we even picked cotton in Alabama," she says.
Her family – seven kids and her parents – traveled much of the East Coast, following the crop cycles. But that itinerant life didn't lend itself to formal education.
"My father had a third-grade education, but he was the smartest man I've ever known. He could do anything, working on cars, building houses, working in construction, working on electronics," she says. "He had a lot of street smarts, although he was uneducated."
Her mother quit school in eighth grade – but later earned her GED and studied nursing.
Like her mom, Sue also dropped out of school in eighth grade. "That was absolutely nothing unusual in my family or among migrant worker families. It was because it was such a burden to try to conform to the system," she says.
But that never defined her. She was artistic and loved to read, reading anything she could get her hands on, even cereal boxes. So, at age 19, already married with three small children, she earned her GED and signed up for classes at Valencia College in 1973.
She was nervous, but determined to try.
"You feel 'less than' when you come from poverty," says Thompson. "Even if you're intelligent, this world can be discouraging. But I decided I was going to give it a try."
She started out with the toughest classes she figured she would encounter – political science and English composition. After passing those, encouraged, she followed her passion: art courses and photography.  After graduating from Valencia, she transferred to UCF and earned a degree there.
"I don't feel sorry for myself.  My childhood gave me a work ethic that not many have," she says. "Let me tell you one thing about going to college. If you've ever picked cotton, you know there's nothing better in the world than getting an education."
But it was Valencia – and its friendly, welcoming professors including Nancy Jay and Qurentia ("Q") Throm – that opened the door for her to a career as an artist. "That was the nurturing and encouragement that I needed," Thompson says. "I can't express my gratitude to them and to Valencia enough."
Fitting in, after a childhood spent in poverty
As the child of migrant workers – who spent many days working in the fields herself, going without shoes, and bathing in lakes because migrant housing had no showers – Thompson is comfortable among poor people, and that helps her in her work, whether she's abroad or in the United States.
In Cuba, while traveling across the island, Thompson asked her driver – carrying a car full of peace workers and translators – to stop when she spotted men working in a sugar cane field.  Thompson, whose father had cut sugar cane in south Florida, got out of the car and wandered into the cane field, to photograph the workers, who were hacking the sugar cane with machetes.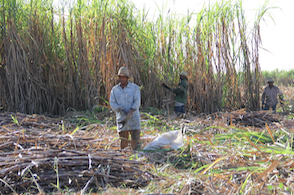 Although her traveling companions stayed in the car, the cane workers were friendly and generous, allowing Thompson to photograph them – and offering her a stick of sugar cane in return, just as her father did when she was a child.
"It remains one of my favorite photos," she says.
"Education opened up a lot of doors for me," says Thompson. "I've been to the White House, I've been abroad. But growing up in abject poverty — along with my formal education — allows me to be comfortable anywhere."
And though she has photographed in war zones, nothing prepared her for the emotions she would feel in 2012, when on a trip to Iraq, she visited Sulaymaniyah's Amna Suraka, or Red Prison, which served as the headquarters of the northern division of Iraq's secret intelligence agency during the 1980s. The secret police used the building to torture and imprison Iraq's Kurdish population. Today, it is a museum of war crimes.
There, seeing the blood stains on the walls and the nails still in the walls – years after Kurdish fighters had liberated the area, gave her chills.
"That was the most intense, scary, dreadful situation I was in — and no one was shooting at me," says Thompson.
Coming home from that emotional trip abroad, where she'd photographed Kurdish allies and Syrian refugee camps, Thompson looked forward to a peaceful stay in Orlando. But shortly after she arrived, a teenager named Trayvon Martin was shot and killed in Sanford, Fla.
So Sue Thompson grabbed her camera and went back to work.
She photographed marches through the streets of Central Florida, led by Rev. Jesse Jackson, Rev. Al Sharpton and other civil rights leaders.
Likewise, when survivors of the shooting at Marjory Stoneman Douglas High School marched on the capitol in Tallahassee last year, she participated and photographed that as well,
Today, at 66, she is continuing to travel the globe, along with her camera, as she documents those seeking justice.
"It's made my life so much more rich," says Thompson, whose work has taken her to over 40 countries from Haiti to refugee camps on the Syria-Lebanon border.  "I was born in Orlando, but the rest of the world is my backyard."