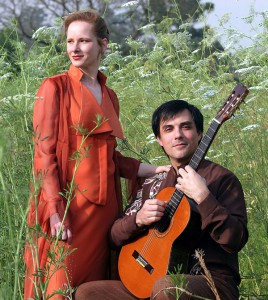 ORLANDO – The Inca Rose Duo, a pair of musicians who use music to develop cross-cultural understanding between the Americas, will perform traditional South American music at Valencia College on Feb. 11.
From 1 to 2:15 p.m., the duo will perform and discuss the tango and folk music of Argentina. The performance will be held in Room 105 of the Health Sciences Building on the college's West Campus.
At 7:30 p.m., the duo will perform at the Performing Arts Center on Valencia's East Campus. That performance will feature interpretations of traditional and contemporary folk and popular songs from South America.
Both performances are free and open to the public.
The Inca Rose Duo, comprised of American soprano Annelise Skovmand and Argentine guitarist Pablo Gonzalez Jazey, performs original interpretations of traditional folk songs and popular music from around the world.
Since its formation in 1998, the Inca Rose Duo has been featured in the programming of music festivals and venues in Argentina and the United States, including performances at the Smithsonian Institution in Washington D.C.; Instituto Cervantes and Queens Theatre in the Park in New York; Semana Musical Llao Llao in Bariloche, Argentina; and the International Guitar Festival in Turin, Italy.
The performance is sponsored by Valencia College's student development department.
Valencia's West Campus is located at 1800 S. Kirkman Road, Orlando. The East Campus is located at 701 N. Econlockhatchee Trail, Orlando.
Click here for information and directions to the Inca Rose Duo performance.