Carolyn Harding has a high school memory that she'd rather forget.
During her freshman year of high school, she approached her high school guidance counselor, eager to ask questions about how to pursue a career in the arts – or apply to college.
Instead, the guidance counselor responded with five words that would sting Carolyn for years. "You," she said, "are not college material."
Rather than prepping her for college, Carolyn was pushed in another direction – to become an office worker or a clerk.
Carolyn said as one of the first African American families in her Long Island, N.Y., neighborhood, she had experienced racism over the years. But she didn't let that stop her from pursuing her dream – to become a singer.
"I was never prepared or encouraged to attend college," said Carolyn. "I even tried applying to the arts program and could not get in. So, I just started singing when and where I could."
Carolyn started pursuing her recording career in 1977, even before she graduated from high school in 1980. And that career has lasted more than 35 years.
After flipping through a magazine one day, Carolyn came across an advertisement for the New York Academy of Theatrical Arts.
"Knowing that I wasn't college material, I felt I had no other choice then to go to a post-secondary school that wasn't as intimidating as college," said Carolyn. "So, I decided to enroll and my father supported me."
Carolyn earned production deals while attending the New York Academy of Theatrical Arts and eventually landed a job with Walt Disney World, setting her initial path in Central Florida.
While working with Disney, Carolyn was the headliner of her own show and said while driving around the city, she always felt an unfulfilled calling when she drove down Kirkman Road.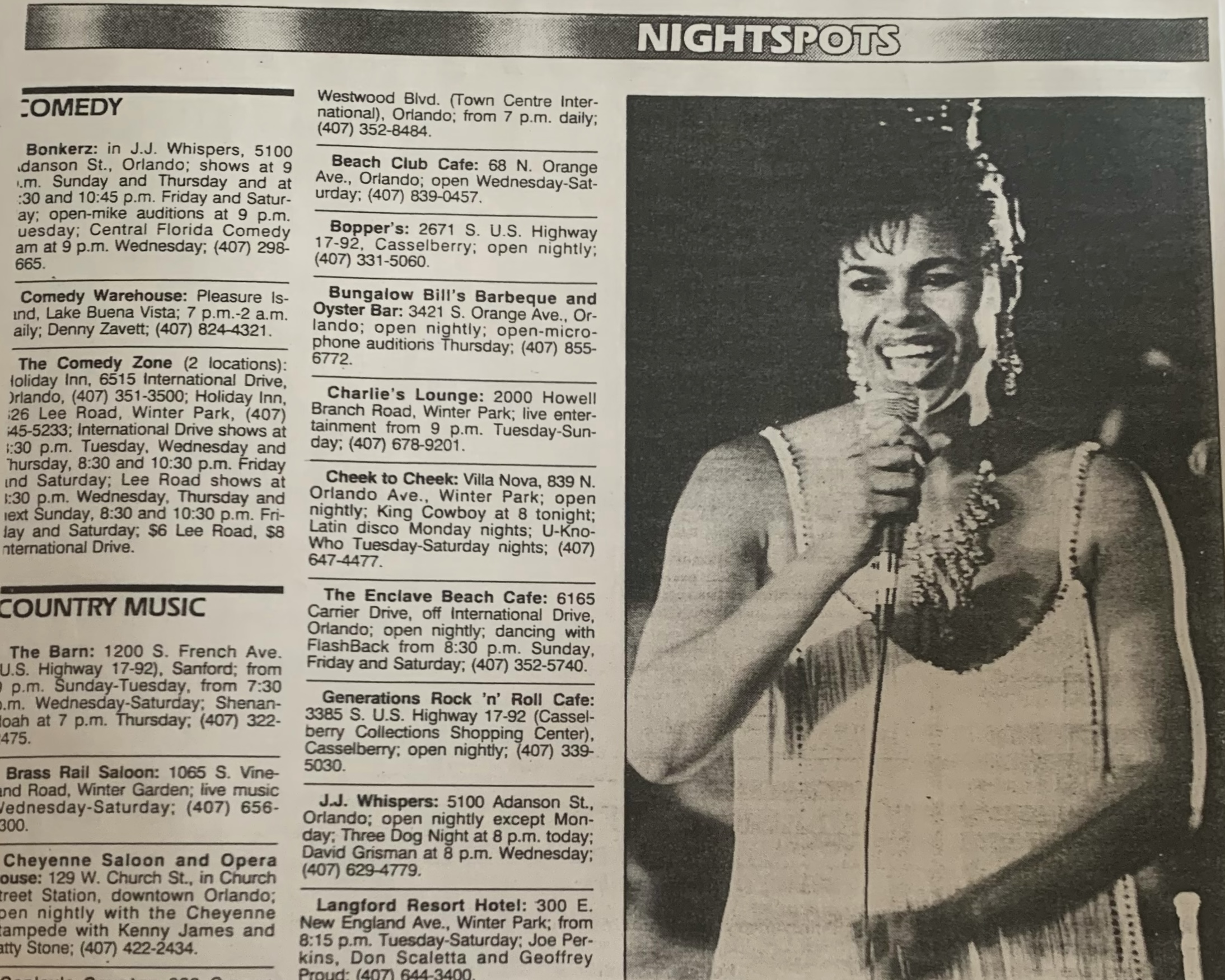 Carolyn Harding was featured in the Orlando Sentinel newspaper after performing at Pleasure Island's Baton Rouge Lounge.
"I remember driving by Kirkman Road and seeing signs everywhere that read Valencia College," said Carolyn. "I always felt a connection, but life was happening so quickly. I couldn't spend much time focusing on the signs."
Between 1989 and 1990, Carolyn completed an additional contract with Disney until she got pregnant with her first child, daughter Brittney Mckenzie. In 1990, she decided to permanently settle in Freeport, N.Y., not far from where she'd gone to high school.
Ten years later, Carolyn had her second child, son, Jaylin Johnson.
In New York, she worked as a freelance vocalist for wedding bands run by Hank Lane, Steven Scott and more. She then went on to open her own business, Carolyn Harding Music.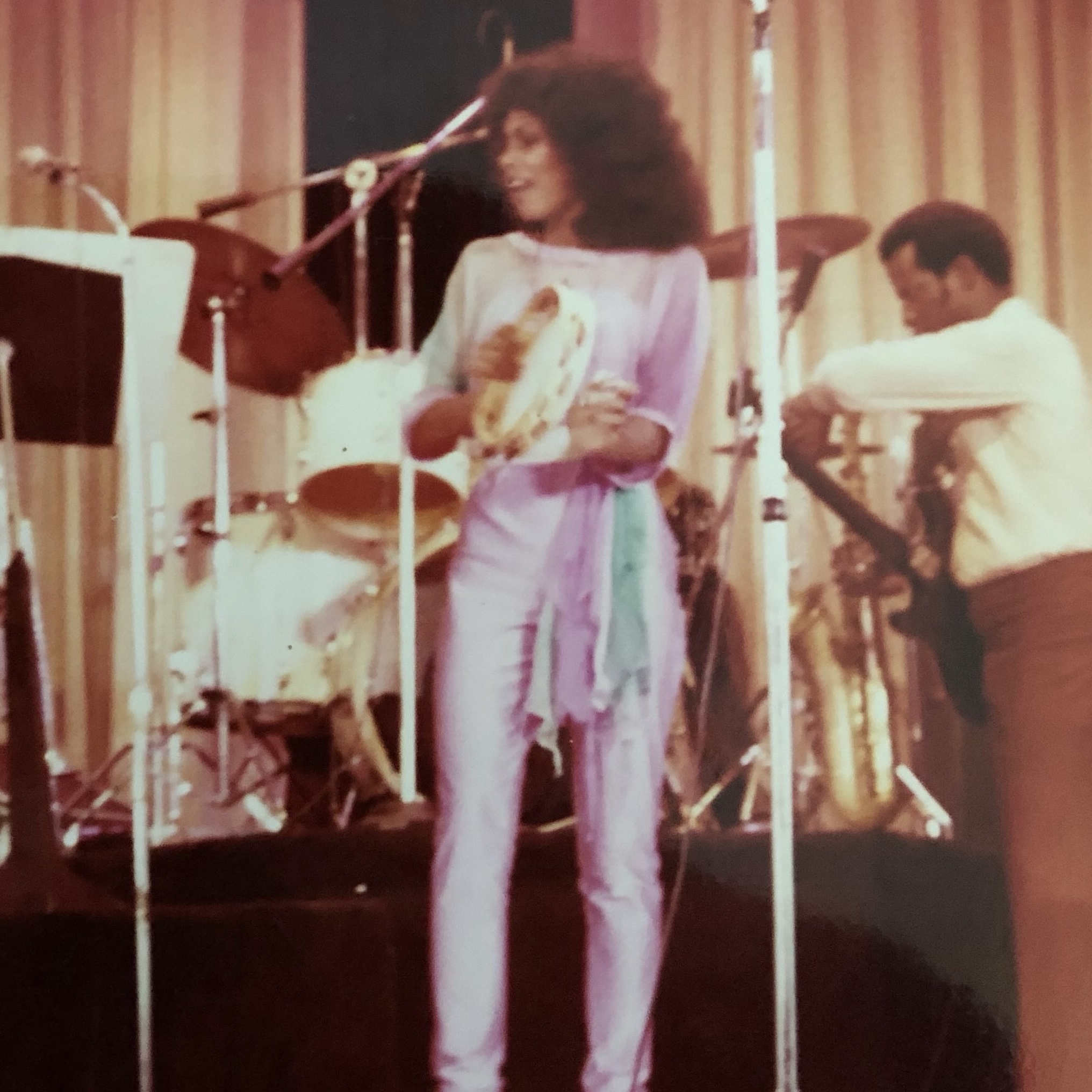 Carolyn Harding and the Mardi Gras Sound Company performing at Disney's Tomorrowland Terrace Restaurant in 1981.
Over the years, Carolyn has recorded internationally and shared a stage with some of the greats, including Little Richard and Sheryl Lee Ralph.
But in 2012, Carolyn's life took an unexpected turn. Hurricane Sandy hit New York and destroyed Carolyn's home.
"My son and I were displaced, living in hotels and temporarily homeless," said Carolyn.
To create a better life, Carolyn said her son suggested they move to Florida for new opportunities.
Carolyn eventually found her way back to Orlando and said she was amazed by the way the city had grown.
"The city looked so different; I was in awe," said Carolyn. "Although the city I once knew looked different, I still saw Valencia College, not just on billboard signs but now displayed on buildings. After all these years, it was another sign."
Carolyn helped her son apply and get accepted into Elizabeth State University in North Carolina. She said completing the college admission process with him instilled in her a motivation to also do it for herself.
"After remembering all the signs connecting me to Valencia College, I applied in my late 50s and was accepted," said Carolyn.
Carolyn enrolled in Valencia College during the fall 2020 semester when the Covid-19 outbreak occurred. She said it was difficult trying to navigate this in her 50s, being in college after all these years and trying to make the best out of it.
To keep herself motivated, Carolyn said she remembers her parents reminding her she "could overcome any level of adversity, even in the darkest of times."
Carolyn pushed through her first year of college, completing courses such as Spanish, mathematics and more. She values the support of her two children, who were also enrolled in college during the same time she was completing courses at Valencia.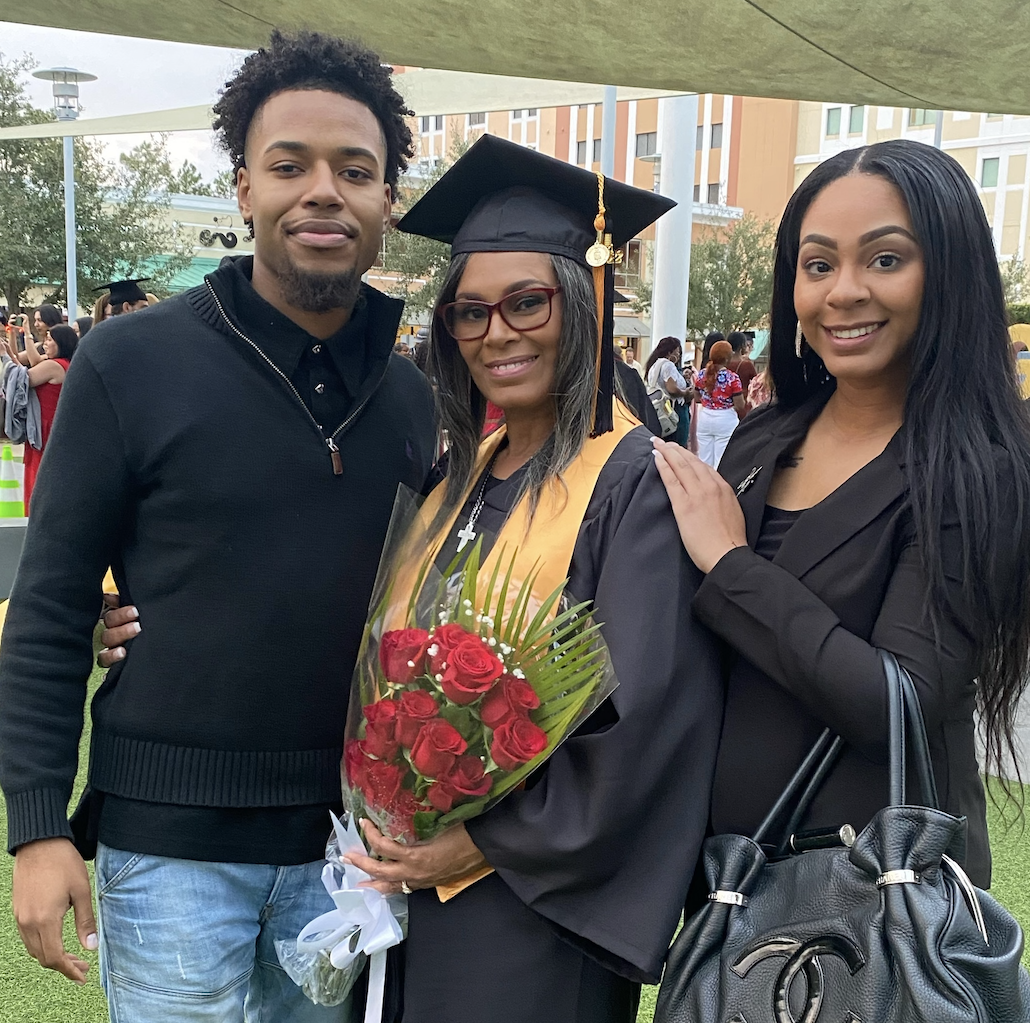 Carolyn Harding pictured here with her son and daughter, after walking in Valencia College's December 2022 commencement. 
Carolyn said her professors encouraged excellence and she earned her place on the Dean's List and she was invited to join the Phi Theta Kappa Honor Society. Carolyn graduated with her Associate in Arts degree in the summer of 2022, and in fall of 2022, she finally got the opportunity to walk across the stage.
She was thrilled to participate in the college's December 2022 commencement ceremony, with her two children and grandchildren cheering her on in the crowd.
She said she remembers talking to the president of Valencia College, Kathleen Plinske, a few days before she walked the stage. She said during the conversation she was reminded about the passing of her parents.
"It was a bittersweet moment when it came to walking the stage because everything felt right, but I wanted my parents present," said Carolyn.
Carolyn said Plinske told her that her parents are present and to put a picture of them on her grad cap to remember that they are.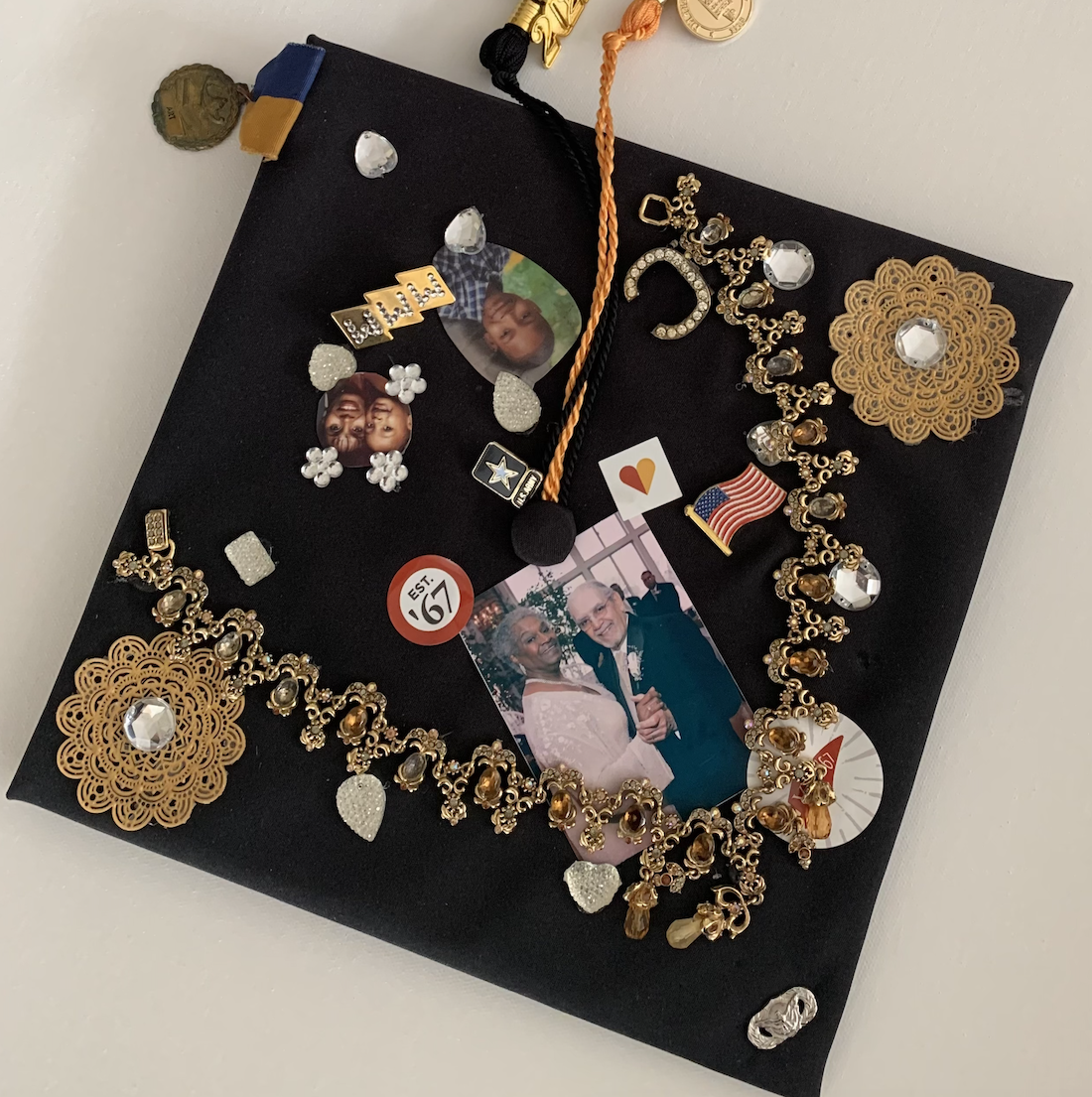 Carolyn Harding's decorated graduation cap with a photo of her parents displayed. 
Carolyn was accepted into the University of Central Florida for the fall semester and started courses even before she walked the stage in December.
She is currently working on the completion of her Bachelor of Fine Arts degree and hopes to one day open an art studio.
"I have always loved music, but I have also always loved art too," said Carolyn. "That is why I decided to pursue my degree in the arts."
Carolyn said her mother was also a singer and she instilled in Carolyn her love of music.
"My mom wanted me to sing so I sang," said Carolyn. "But I completed my degree for me — because I wanted to, and I want to make art."
Carolyn continues to volunteer her time and talent with local youth and the elderly, mixing both music and art into learning workshops.
Inspired by Carolyn's journey at Valencia, her daughter has now applied to the college and is aiming to be the next #ValenciaGrad in the family.
Although Carolyn has an amazing career as a vocalist, she never forgot her past.
"I never forgot when I was told I wasn't college material," said Carolyn. "But Valencia College, my family, my grandchildren, my parents, and myself, always knew that I was so much more."