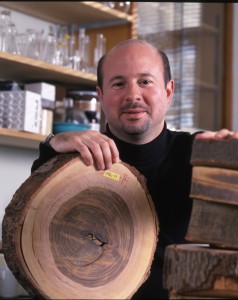 Is global warming real — and a real emergency for the planet? Or just a bunch of hype from tree-huggers?
Come find out on Jan. 17, when Dr. Michael E. Mann, an expert on global warming and member of a scientific team that won the 2007 Nobel Peace Prize, discusses the topic at Valencia College's Performing Arts Center on East Campus.
Mann, a climatologist at Penn State University, is author of the new book, "The Hockey Stick and the Climate Wars: Dispatches from the Front Lines." He will speak about global warming and will hold a book-signing event after the speech. (Copies of his book will be available at the Valencia College bookstore on East Campus.)
The speech — which will begin at 1 p.m. — is free and open to the public.
At Penn State, Mann holds joint positions in the Departments of Meteorology and Geosciences, and the Earth and Environmental Systems Institute. He is also director of the Penn State Earth System Science Center.
Mann received his undergraduate degrees in physics and applied math from the University of California at Berkeley, a master's degree in physics from Yale University, and a Ph.D. in geology and geophysics from Yale University. His research involves the use of theoretical models and observational data to better understand Earth's climate system.
Mann was a lead author on the Observed Climate Variability and Change chapter of the Intergovernmental Panel on Climate Change Third Scientific Assessment Report in 2001 and was organizing committee chair for the National Academy of Sciences Frontiers of Science in 2003.
The author of more than 150 peer-reviewed and edited publications, Mann has published two books: "Dire Predictions: Understanding Global Warming" in 2008, and "The Hockey Stick and the Climate Wars: Dispatches from the Front Lines," in 2012. He is also a co-founder and avid contributor to the award-winning website "RealClimate.org"
Mann's visit to Valencia is sponsored by the Valencia Earth Studies Association. Valencia's East Campus is located at 701 N. Econlockhatchee Trail, Orlando.