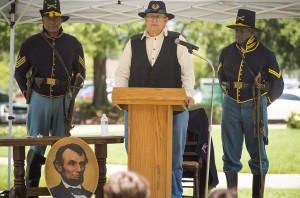 Commemorating the 150th anniversary of the emancipation of slaves in the United States, Florida's Juneteenth Music Festival will kickoff Thursday, June 13, with a re-enactment of the 1863 Reading of the Emancipation Proclamation at Valencia College's East Campus and will continue through Saturday, June 15 with a series of events, including a jazz concert and art display.
Juneteenth is the historical celebration of the day (June 19, 1865) when the last slaves in America learned that they had been freed—two years earlier—by the signing of the Emancipation Proclamation. Florida's Juneteenth Music Festival is sponsored by the Wells'Built Museum, Valencia and the Metro Orlando National Pan-Hellenic Council.
Here is a list of the events:
Thursday, June 13 –  "Ties That Bind," featuring a re-enactment of the May 20, 1863, reading of the Florida Emancipation Proclamation with Clifton Lewis, Florida African American historian; Union and Buffalo Soldiers re-enactors; Vibert White, historian on the Latino and African American connection; and "Inside the Civil War," a presentation as seen through the eyes of a Union soldier. From 11 a.m. to 2:30 p.m., Valencia College East Campus mall area and Bldg. 5-112, 701 N. Econlockhatchee Trail, Orlando. Admission is free.
Friday, June 14 – "Jazz and History," featuring the Jones Alumni Orchestra, a historical presentation and refreshments. From 5:30 p.m. to 8:30 p.m., Wells'Built Museum, 511 W. South St., Orlando. Admission is $5.
Saturday, June 15 – From 9 a.m. to 6 p.m., starting with a Conductors' Caravan at 9 a.m. commemorating the 100th anniversary of the death of Harriet Tubman. The Conductors' Caravan will travel from the Lila Mitchell Community Center at 5151 Raleigh St. to the West Campus of Valencia College, 1800 S. Kirkman Rd., Orlando. A celebration of Harriet Tubman's legacy and Juneteenth will follow at the college's Student Services Building patio, including a children's African drumming workshop, a presentation on the "Black Seminoles" and entertainment by Justin Felton & the Prayze Team. Admission is free.
Visit http://www.wbmuseum.wix.com/Juneteenth for more information or contact Lori Waldon-Jones at vwaldon@valenciacollege.edu.