Orlando, FL – Drivers of electric cars – and more than 100 folks who are interested in electric cars – will descend on Valencia College's West Campus on Saturday, Sept. 10, for a "tailpipe-free" tailgate party, to demonstrate the clean-air benefits, cost-savings and fun of driving electric cars.
The Orlando event is one of more than 100 across the country where electric-vehicle owners (also known as "EV-angelists") will hold electric car parades and a series of events, plus launching of new public EV charging stations.
WHEN: Saturday, Sept. 10, 2016
WHERE: Valencia College West Campus, 1800 S. Kirkman Rd., Orlando, 32811
Parking Lot F
TIME: 10 a.m. to 4 p.m.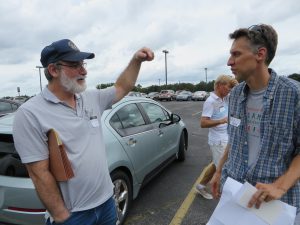 At the event, you can see a wide array of electric vehicles (including Nissan Leafs, Chevy Volts, Tesla Model S vehicles, BMW i3, Ford C-MAX Energi, and 1 solar vehicle) and talk to their owners. Speakers will also discuss the energy and environmental aspects of the electric-car movement, and learn the science behind sustainable living and renewable energy.
To sign up or learn more about National Drive Electric Week, please visit https://driveelectricweek.org
The Orlando event is organized by Valencia College and supported by the Electric Auto Association, Plug In America and the Sierra Club.
About Plug In America: Plug In America, a San Francisco-based national nonprofit organization, works to accelerate the shift to plug-in vehicles powered by clean, affordable, domestic electricity to reduce our nation's dependence on petroleum and improve the global environment. The organization conceived National Drive Electric Week and has advanced workplace charging by pioneering regular ride-and-drive events at such leading corporations as Google, Mattel and Paramount Pictures. It developed the world's largest, most dedicated network of plug-in vehicle owners and drivers, many of whom have driven EVs for well over a decade. www.pluginamerica.org
About the Sierra Club: The Sierra Club is the nation's oldest and largest grassroots environmental organization with more than 2.4 million members and supporters, with chapters in all 50 states. The Sierra Club's national electric vehicles initiative advocates for a switch to EVs as one important way to reduce emissions and cut oil consumption.
Sierra Club is proud to have been one of the three national groups organizing National Drive Electric Week since its inception in 2011. www.sierraclub.org/EVGuide
About the Electric Auto Association: The Electric Auto Association, formed in 1967, is a nonprofit educational organization with 75 chapters worldwide that promotes the advancement and widespread adoption of electric vehicles. www.electricauto.org