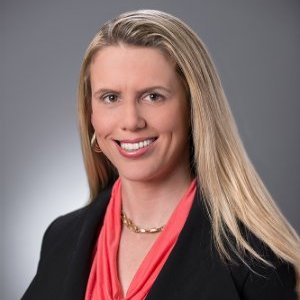 Today, Valencia Grad Liefke Meyers is the Vice President of Investor Relations for Orlando's Economic Partnership, but fifteen years ago, she was living in the Balkan Peninsula, facing a lot of obstacles. Spending her youth growing up in Hong Kong and Thailand as a child of missionary parents, she encountered many people affected by international crisis, such as the women in war-torn Croatia. She wanted to continue her work improving the plight of less-fortunate people, but as a single mother, she also had to raise her two-year old son.
This ultimately prompted her to return to the United States. By age 23, she had international experience, perspective, and ambition to do great things in her future, but she was working as a receptionist for a church in west Orange County, making $8.25 an hour, negotiating a baby sitting schedule with her parents. Her lack of formal education proved a major obstacle to the goals, however. Homeschooled her entire life, Meyers would need to take the GED before she could apply to college. A bit behind in math, and unfamiliar with a standard classroom setting, she found a perfect fit in Valencia College.
"Going to school at night, the teachers were unlike anything I'd seen," says Meyers. "Valencia had incredible remedial math programs, and because of the small classes, I felt welcomed."
If Meyers had the opportunity to get out of work early, she would spend the spare time taking advantage of the free tutoring until her 6 p.m. classes started.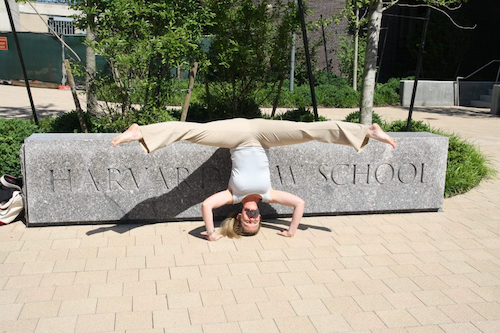 While Meyers balanced parenting, school and work, she kept her sights set on the future, meeting with counselors at the Career Center to find her next step as she chipped away at her Associate of Arts degree. She learned about transfer options to Rollins' Hamilton Holt Evening School. Knowing that she would need all of the financial aid she could get, she looked into every grant and scholarship available. The 16 scholarships awarded to Meyers seems prodigious until you consider that she applied for 49.
"You have to be your own champion," Meyers says. "No one else is going to do it for you."
Attending night school from 2004 to 2006, and working as a banking coordinator and analyst during the day, she went on to earn a bachelor's in International Affairs and Organizational Communication from Rollins. With the ink on her diploma hardly dry, Meyers was looking to make use of her degree. At a holiday networking event, Meyers found people dividing up into cliques when she approached a stranger and struck up a random conversation about dessert.
"Always take the opportunity to talk to everyone," says Meyers. "Value everyone the same."
That person connected Meyers with a project manager at Orlando's Economic Development Commission who eventually alerted her to an open position at Enterprise Florida, a state-funded agency that targets investment throughout the state by raising funds from the private sector. Upon hearing their Director for Investor Relations position was open, Meyers submitted her resume and followed up every week for three months to no avail, employing a persistence reminiscent of her scholarship search while at Valencia.
Finally getting the opportunity to speak with her would-be boss, she was told that she didn't have the qualifications for the job.
Instead of feeling dejected, she asked him for a favor. "Could you tell me what I could do for the next year, so that I can apply again in the near future?" Meyers asked.
Impressed by the recent graduate's ambition, the Enterprise CEO instantly changed his mind, asking her to come in for an interview. Meyers anticipated a common occurrence in interviews, the moment when interviewers turn the tables to ask if the candidate has any questions of the organization.
"I asked a million questions," recalled Meyers. "I even typed my questions about Enterprise Florida. I put on my best suit, and glasses – I've read about studies that found people who wear glasses automatically gain more respect than those who don't."
She won her interviewers over, edging out two other 'shoo-in' candidates with master's degrees and high-profile letters of recommendation. Her new bosses appreciated her gusto and she worked for six years under the administrations of Gov. Charlie Crist and Gov. Rick Scott.
While some might think of this as a professional pinnacle, Meyers wasn't about to let her education plateau. From 2011-2014, she returned to Rollins to work on a master's degree in Diplomacy and Negotiation, peppered with intensive certificate programs at Harvard and University of Otago in New Zealand, as well as a high-profile internship at the United Nations in New York.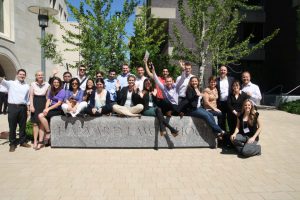 In New York, she gained valuable experience in global diplomacy, drafting press releases about the Syrian War, working with sexual assault victim programs in the Congo, drafting response strategy to the Ethiopian climate-change crisis. Success in those initiatives led her to work on a U.N. project to design global fundraising strategy for crisis management.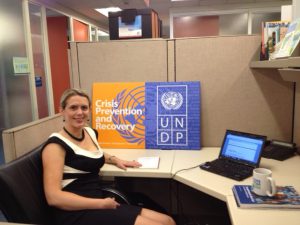 Through this work, Meyers made the impact that stuck with her from her work in Croatia. Given exposure to global development issues, the City Beautiful is, no doubt, glad to have the Valencia/Rollins grad in her current role at the Orlando Economic Partnership, which recently re-branded from the Economic Development Council.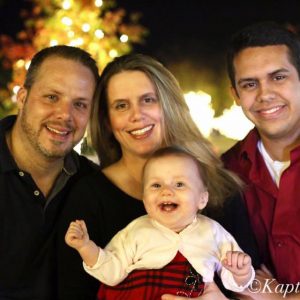 Now 38, a steady, but extraordinary, fifteen years after receiving her GED, Meyers was recently named one of Orlando Business Journal's 40 under 40.  While she has stayed focused and has never taken "no" for an answer, she credits her success to the awareness of a healthy work-life-school balance.
"As a student, you have to know your limits. Some people are able to [finish college] extremely fast. What I realized is that I needed to also live life, take my son to the park, go to a yoga class, see a movie…I know there are plenty of single parents, either at Valencia, or they're thinking about attending. They might say, 'I can't do it; if I'm not taking four or five classes (each semester),it will take forever.' – No, you can live your life and go to school. And in the long run, it makes your life so much better."