The CEO Leadership Forums, a group of Orlando business leaders, along with several other Central Florida businesses, have pledged to donate $150,000 to Valencia College to provide student scholarships.
The pledges were announced at a breakfast meeting, which brought together more than 50 business leaders and college officials, that was held at Valencia College's District Office on July 19.
The CEO Leadership Forums committed to donate $100,000 over the next three years to provide scholarships for students enrolled in Valencia's new Bachelor of Applied Science program in Business and Organizational Leadership. The degree, which launched in May, is designed to help students who have earned an associate's degree to add business skills to their training and prepare for leadership positions.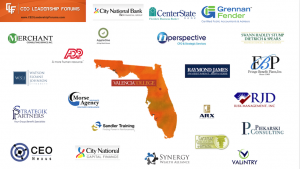 In addition, several companies made commitments to support Valencia College students enrolled in other programs.  International tech firm MasterBase pledged $50,000 in scholarship funds for students in the Bachelor of Applied Science program in Software Development, a degree that Valencia's board of trustees approved in April for submission to the State Board of Education. In presenting the check, MasterBase CEO and General Manager Alvaro Pesce Cotera said, "Technology and software platforms will drive everything we do in the future. It is important that my firm invest in this area."
Rick Asta, chief operating officer of construction company Kenpat, also committed to support the creation of a multi-year apprentice program to be available to those graduating from the Associate in Science in Construction and Civil Engineering Technology degree program and who continue into Valencia's new bachelor's degree program in business (Bachelor of Applied Science in Business and Organizational Leadership). "Talent in our growing company is crucial and we will invest in scholarships to students eligible for the new internship program," Asta added.
"We are very excited about our partnership and working relationship with CEO Leadership Forums and its dynamic sponsor team," said Nasser Hedayat, Valencia's assistant vice president of career and workforce education. "In addition to student scholarships, the Forums' guests and their companies can provide opportunities for student internships and part-time jobs, serve as guest speakers for classes or serve as board members for Valencia's new business administration program advisory council."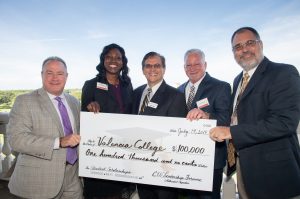 Valencia College and CEO Leadership Forums has also announced the formation of the Distinguished Internship Program, one of the first of its kind in Florida, which will provide to eligible students practical, hands-on experience to complement academic efforts in the classroom.  "Support from local companies such as MasterBase and Kenpat will allow Valencia to maintain affordable baccalaureate-level education for years to come," Hedayat added.
The CEO Leadership Forums is an educational organization that mentors middle-market CEOs in Central Florida and provides scholarships and potential apprentice internships to students who will fill the needs of those participating companies.
The organization was founded by co-chairs Geoffrey Gallo of CPA firm Grennan Fender and Russell Slappey of CFO Services firm Nperspective.
The organization is comprised of two Orlando strategic advisory teams which include community bank Centerstate Bank as a cornerstone sponsor for one team and City National Bank as the cornerstone sponsor for the other. "We are delighted that such a diverse group has rallied together around such a noble cause," says Slappey.
"Bringing 20 different partners together like this in the forum makes a difference – for our sponsor companies,  Valencia students and our client companies who are opening up these internship opportunities. We are proud to make such a contribution to our community," Gallo said.
Companies comprising the Orlando Centerstate Group include: Grennan Fender Hess & Poparad; Nperspective CFO & Strategic Services; Swann Hadley Stump Dietrich & Spears; Fringe Benefit Plans, Inc.; ARX Payment Systems; Raymond James Financial Services; Sandler Training Institute , RJD Risk Management;  Piekarski Consulting; Capstone Commercial; Valintry Services and CEO Nexus.
Companies comprising the Orlando City National Bank Group include: Grennan Fender Hess & Poparad; Nperspective CFO & Strategic Services; ADP; Watson Sloane & Johnson; Skolnik Strategic Partners; Synergy Wealth Alliance; Sandler Training Institute; The Morse Agency; Piekarski Consulting; Apple One; Merchant Consulting Services and CEO Nexus.