Lucas Boyce is an executive with the Orlando Magic today — with a resume that boasts of White House jobs and heavyweight connections — but years ago, he was just a kid from Independence, Mo., who wasn't sure what life would hold for him.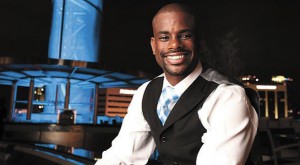 Luckily, he had a coach who pushed him in the right direction: His foster mom, Dorothy Boyce, who adopted him and five other brothers and sisters, several of whom were disabled.
"She told us that we were built for something more, that it didn't matter what our disabilities or circumstances were," said Boyce, who spoke to a crowd of 80 students at the Lake Nona Campus on Feb. 11 during Black History Month events. "And that's an important message for you: If we're going to make an impact on others, we have to believe in ourselves.  There are lots of people who will tell us that we're not tall enough, not good enough, not hot enough… but there's a smaller voice telling you that you are valuable, that you are built for something more, and you need to listen to that smaller voice."
Born six weeks prematurely to a teenaged, drug-addicted prostitute, Boyce's prospects may have seemed bleak to an outsider. But as an infant, he was sent to the foster home of Dorothy Boyce. Boyce already had four children of her own, but she was well equipped to handle Boyce. Over the years, she served as a foster mother for more than 40 children, including kids with cerebral palsy and Prader-Willi Syndrome.  Children with challenges were nothing new to her.
Developmentally delayed because of his premature birth, Boyce struggled at first in school — and had to repeat kindergarten.  His mom sat him down and told him to never give up.
"We will all have different obstacles," he told the Valencia students, "but the common thread is that we will all have obstacles." To overcome them, he said, you must be ready to turn setbacks into stepping stones — by studying harder than others, or working harder, or being more creative.
After high school graduation, Boyce's mother provided him with another valuable lesson. She made him sit down and think about what he wanted to do with his life and how he was going to get there.  Boyce, who had no political connections, had been inspired by a visit to Washington, D.C., with his church youth group. So he told his mother that he had three goals: To work in the White House, to fly on Air Force One, and to work for an NBA team (preferably the Chicago Bulls, because he idolized Michael Jordan.)
His journey toward those goals started during his junior year at the University of Central Missouri. While other political science majors were taking internships in the state capitol or in city hall, Boyce took the advice of a mentor and applied for  internships in Washington.  One day, while working part-time at his warehouse job, the White House called to request an interview.
Near the end of his internship, he was summoned to the White House lawn for a photo op with President George W. Bush and a bunch of kids. Afterward, he posed for a photo with the president, and the two chatted about golf, life and, at the close of the conversation, Boyce quietly told Bush that he was praying for him.  Later, Bush called Boyce's supervisor, asked about him and then urged his staff to bring Boyce on board.  So, as soon as Boyce finished his bachelor's degree, he shuttled back to the White House, where he'd work on the president's re-election committee, his inaugural committee and would eventually land in the White House office of Public Liaison and Intergovernmental Outreach.
By age 27, Boyce had already achieved two of his goals — he was working at the Bush White House  and flying aboard Air Force One occasionally.
Working for an NBA team might be another matter. Boyce, at 5'7", never dreamed of playing for an NBA team. And frankly, as Bush's second term in office waned, the 27-year-old Boyce was studying for the LSAT and planning to apply to law schools. But when a White House staffer asked him what he wanted to do after Bush left office, Boyce was honest. He said he'd really like to work for an NBA team.
Before long, the staffer introduced Boyce to Joel Glass, an executive with the Orlando Magic.
Boyce interviewed for and landed a job as the team's director of multicultural insights and cause marketing. So instead of law school, he earned his MBA from Rollins College while working for the Magic.
That, he says, taught him another lesson. Be flexible enough to recognize that your life — even your carefully mapped-out- life — may not go according to plan. And though law school wasn't in the cards, he seized the opportunity to earn his MBA. And that has led to more opportunities: Today, Boyce serves as the Magic's director of business development and legislative affairs. He was recently appointed by Gov. Rick Scott to serve on Valencia College's Board of Trustees.
After his speech, he encouraged students to follow their passions — and find mentors to help guide them.  "You need different mentors for different circumstances," Boyce said. "And don't be shy about asking people to help you. Tell them what you need from them. Would you be a reference? Can you explain how this works? It doesn't mean hanging out with them all the time. Tell them specifically what you need from them."
He also urged students to find internships. "Internships are crucial," he said. "Over 50 percent of the Magic staff were interns at one point. Our CEO, Alex Martins, started as an intern at the Magic."
For students like Kate Knight, 28, a veteran who isn't sure what her career path is, he urged patience. "I always loved politics, but I started out as a voice major and then I was a psychology major," Boyce told her. "But I took this class in international relations and that really excited me," he told her. "I would encourage you to explore. Take classes to figure out what interests you. What makes you excited?"
For Benjamin Torpey, 18, a senior at Harmony High and a dual-enrollment student at Lake Nona, Boyce's lessons were valuable. "I'm really interested in politics and I want to go for a political science major," Torpey said, "so this was really interesting."