Madelyn Young had a four-year, full academic scholarship to Florida State University in 1971 when she graduated from Jones High School.
But she opted not to go.
"Deep down inside, I was too afraid to leave my parents — though I never told them that," says Young. Instead, she took the advice of her former high school guidance counselor, Ernest Nyblack, who was working at Valencia in 1971, and took a leap of faith – she headed for Valencia Community College, which had only been open a few years.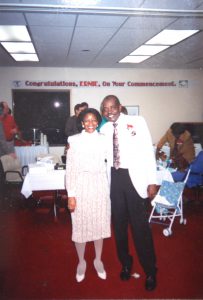 "This whole community college thing was new. And Mr. Nyblack was definitely a believer in it. My assistant principal (at Jones), Mr. Coney, was not. So Mr. Coney worked to get full scholarships for three of us" – Young and two other Jones students who showed academic promise.
While the world outside Valencia may still have been rife with racial tension – especially since Orange County Public Schools weren't fully integrated at the time – Valencia was a safe haven for Young and her friends. "Valencia was an oasis," she says.
Although Valencia opened its doors to minorities from its first day, Aug. 21, 1967, the new community college struggled to attract African-American students at first. But by 1970, black students formed Valencia's Black Student Union. The college also offered a limited "Black Studies program," including two classes on Afro-American history taught by Fannie Butler. Almost 80 students signed up for the classes; the majority were white students.
And in 1971, the Black Advisory Committee held a community meeting at Mt. Zion Missionary Baptist Church to teach minority students and their families about Valencia's programs and degrees. More than 600 people attended.
When Madelyn Young started classes at Valencia later that year,  the West Campus had only three buildings – along with a number of portables to house the growing numbers of students. For a while, one of those double-wide trailers served as the student lounge.
"Black and white kids were, many for the first time, were sharing really tight quarters. We played music on the jukebox" and studied at the same time —  which wasn't a distraction for baby boomers, she says, laughing.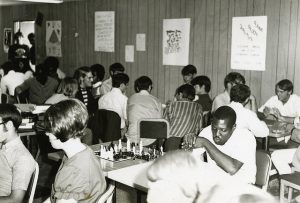 And because there were no buses running to campus, students carpooled. And with no businesses or restaurants located nearby, most chose to stay on campus all day.
Between classes and after classes, the student lounge became their hangout. "We had a pool table, table games. We'd play cards and had a jukebox. When the student lounge moved into what is now Bookstore Number 2, we had a lot of tables and students would stay there all day. Some students would be outside on the benches. Students would sit on the grass by Lake Pamela. And they hung around the cafeteria… students actually stayed on campus and ate here."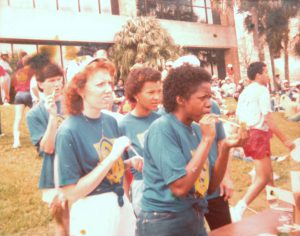 Later, after Young graduated, administrators eliminated the student lounge, a move that frustrated Young. "They didn't realize that's where we established a lot of our lifetime friendships," says Young. "Back then, we didn't have math lab and English lab, but we had students who were very good in certain subjects and they would tutor you in the lounge.
"We had this guy named David who was a whiz at math. He loved music and he would be in the lounge. If you needed help with math, you'd have to go to the lounge and find David."
What developed was a sense of belonging and camaraderie.
"You would see students hanging out until 4 o'clock in the afternoon," she says "Professors would spot you in the lounge and tap, tap on the glass and we'd run off to class.
"But they would come and eat and play games with the students….That's one of the funny things that I look back on now. We actually hung out with some of our professors. Many of them weren't that much older than us. As college students, they were products of the baby boom generation and the civil rights movement — and they lived their lives accordingly."
For many students, Valencia provided a taste of culture. During the college's early years, Valencia officials gave students tickets to traveling Broadway shows – and, in 1969, the college paid a Boston-based opera group to Orlando to perform "La Traviata" at the Orlando Municipal Auditorium and opened the event to the community. Many of the students, noted one retired administrator, had never seen an opera or been to the theater.
That wasn't the case for Young, who'd grown up listening to classical music albums and jazz –because her parents viewed TV as a waste of time and chose not to purchase one until she was 10 years old. So when Jones High School graduate and famed opera singer Curtis Rayam visited Valencia and sang for the students, Young smiled and laughed when some of her classmates said, "That dude can really sing."
Young also loved theater – and performed in a number of plays at Valencia.
"I was a computer science major, but theater was my outlet," she says. "I hated everything about that major, but that's why I did drama."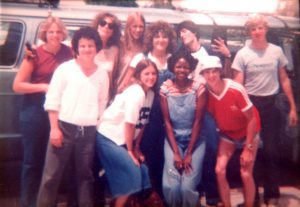 After graduating from Valencia, Young transferred to Florida Agricultural & Mechanical University (FAMU) in Tallahassee.
It was, she discovered, nothing like Valencia.
"When I went to FAMU, that's when I realized I had really been at an oasis. And even my friends who went straight there as freshmen were surprised when I would tell them about Valencia. Everyone at Valencia seemed to go out of their way to help us. They had an open door policy , even all the way to president," says Young.
"At FAMU, I would be upset if I made an appointment with a professor and he wasn't there. They'd say, 'Are you kidding?' That's when I realized Valencia was another world. Boy, we didn't realize how good we had it."
Young left FAMU after a year and returned home to Orlando, but later went on to earn her bachelor's degree from Rollins College in Winter Park. Although she worked for the U.S. Postal Service after leaving FAMU, Young returned to Valencia as an employee –  first as a temporary employee in the library and later she worked in the career center, where she counseled students on careers and, alongside Delores McCord, became an expert on the Myers-Briggs Personality Type Indicator.
"I loved it," she says. "It was very rewarding."
Today, Young is retired, but like many Valencians, she still comes back – albeit as a teacher. This summer, for instance, she'll be helping teach a SLS class, College Skills. In the classroom, she's changing lives – just as Valencia changed hers.