By Linda Shrieves
He's got the same hair, the same squinty-eyed look, the same crooked grin and that unmistakable laugh.
He has appeared at inaugural balls, the Christian Broadcasting Network, corporate meetings  and golf tournaments.
He has done events with Mitt Romney, Arnold Schwarzenegger, Rudy Guiliani, Mike Huckabee – and Jeb Bush.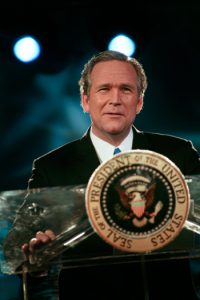 The only thing that separates Valencia grad John Morgan from George W. Bush is, well, his family.
You see, while George W. Bush was the grandson of a U.S. senator and son of a president, John Morgan grew up in Orlando, graduated from Valencia College in 1976, and started a career as a Christian musician.
"I had two delightful years here at Valencia and I loved the time," he recalls. "People were so friendly. I loved my classes; I did well; and it was a delightful season of my life."
Of course, not all things went according to plan. When Morgan's music career didn't pan out, he joined his parents in their family appliance business.
Yet, after George W. Bush was elected president, friends began telling John Morgan how much he looked like the president. Morgan didn't think much of it – and, frankly, wasn't interested in capitalizing on the resemblance.  "I had seen some impersonators who were cringe-worthy," he says, "and I didn't want to be cringe-worthy."
But as more and more folks began commenting on the uncanny similarities between the two, Morgan began to reconsider. He finally made the decision after his wife, Kathy, saw a Bush impersonator on the "Tonight Show" one night.
"He didn't sound or look nearly as much like the president as John did," says Kathy. When she found out how much money the impersonator made, she was shocked.
"We weren't talking about hundreds of dollars – it was thousands of dollars per appearance!" she recalls.
https://www.youtube.com/watch?v=RLEwoHmeMKE&t=1s
After studying Bush on video – and clips of comedians impersonating him — Morgan began testing the waters as a George W. Bush impersonator. In 2003, at a Halloween party for a large Orlando church, he dressed as the president – complete with a flag lapel pin – but stood off to the side, trying to avoid attention.
No luck.
"People went crazy," says his wife, Kathy.  "They couldn't get over it. They all wanted to get their pictures taken with him."
Morgan continued perfecting his Bush impression and signed on with a talent agency. He was soon landing bookings around the country, ranging from Republican party events to corporate meetings.
Once, he even fooled veteran journalist Barbara Walters.
At an event at Dulles International Airport outside Washington, the Republican Party hired Morgan to greet VIPs who were arriving in town for Bush's second inauguration, Morgan warmly greeted Walters, who mistakenly thought he was really the president.
She later admitted that she'd fallen for the impersonator on her talk show, "The View."
Of course, as Bush has changed, so has Morgan.
Because he's 10 years younger than Bush, Morgan once used makeup pencil to create wrinkles and add touches of grey to his hair. Today, he doesn't need as much makeup to look like the former president.
And, even though Bush has been out of office for more than a decade, Morgan stays busy – traveling around the country to work conventions, golf tournaments and corporate meetings. He has written a book, "War on Fear," and has a website – bushgrams.com – where customers can request that he record a video greeting for a friend's birthday or anniversary.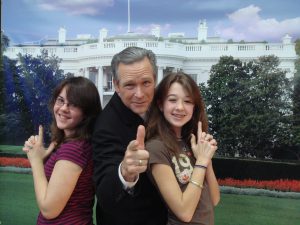 "My motto is: Why send flowers when you can send a Bush?" he says with a laugh.
In 2015, he was one of the stars of "Just About Famous," a documentary about the lives and work of celebrity impersonators.
Of course, he doesn't fool everyone. On a recent visit to West Campus, he introduced himself to a Valencia College student who'd been staring at him, trying to figure out who he was.
"I'm George W. Bush," he said, shaking her hand.
"Yeah," she replied, "and I'm Mother Teresa."