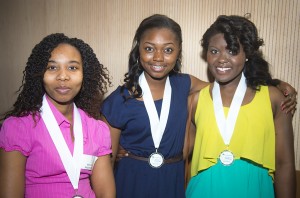 A college education can be life-changing – "a golden ticket to a better future" – and it's a dream that's about to come true for 49 graduating Orange County high school seniors.
On Thursday, Feb. 28, Take Stock in Children of Orange County awarded $30,000 college scholarships to 49 students who have participated in the organization's unique mentorship program for five years.
At a ceremony held at Full Sail University, community leaders, volunteers, corporate sponsors and mentors — as well as the Orlando Magic dancers and the Magic mascot Stuff — cheered for this year's high school seniors – the first group of students to graduate from the program.
Each graduating senior will receive a 2+2 Florida Prepaid $30,000 scholarship from the Orange County Take Stock in Children program, paid for by corporate sponsors.  The scholarship pays for two years at any Florida community college and two years at one of Florida's state universities. Altogether, the 49 students will receive $1.47 million in college scholarships.
"This opportunity from Take Stock in Children and our community partners is your 'golden ticket,' students, and your new door," Elisha Gonzalez, executive director of Take Stock in Children of Orange County, told the graduating seniors. "Open it, and run. Run and enjoy the journey."
In addition to the graduating seniors, 25 new middle-school students were inducted into the program, bringing the number of participating students to 150.
Take Stock In Children is a statewide initiative that helps underserved children succeed. The mentorship program starts when the children are in seventh grade. All are academically promising students who come from disadvantaged backgrounds: Some have parents who've been in jail; others have parents who have struggled with addiction, while many have been raised by single moms who are struggling to keep their families afloat financially.
Take Stock In Children provides volunteer mentors, early intervention and long-term support. If the children meet with their mentors weekly, keep their grades up and stay away from drugs and alcohol, they will earn a four-year college scholarship.
For scholarship recipient Cristian Rivera, the program has been "a powerful experience." Cristian's mentor, Orlando Magic executive Lucas Boyce, helped Cristian get his driver's permit by letting Cristian practice driving his Jeep Cherokee. Boyce bought Cristian's first suit, his own business card and taught him the art of making small talk.
Cristian's goal is to work at Disney in a management position. He plans to start his college education at Valencia College and then study business management at the University of Central Florida.
Take Stock in Children was started in 1995 and has been successful in other parts of Florida. Valencia College brought the program to Orange County in 2008, thanks to a $1 million gift from the Florida Citrus Sports Foundation and another $1 million donation from Mears Transportation. Full Sail University was also one of the first sponsors to sign on.
Other sponsors include: Orlando Magic, the Martin Andersen-Gracia Andersen Foundation, the Haddock Foundation and the Orlando Magic Youth Foundation.
Speakers at this year's event included: Steve Hogan, CEO of Florida Citrus Sports; Garry Jones, president of Full Sail University; Dr. Barbara Jenkins, superintendent of Orange County Public Schools; Bill Sublette, school board chairman, Orange County Public Schools; Bob Kodzis, Flight of Ideas Inc.; and Dr. Sandy Shugart, president of Valencia College.
Guests at the event included: Bo Outlaw, Orlando Magic Community Ambassador; Nancy Robbinson, Orange County Public Schools board member; Susan Fernandez of U.S. Sen. Marco Rubio's office; Jill Mickle of Florida Citrus Sports Foundation; Deb Mears of Mears Transportation; Linda Landman Gonzalez, vice president of community relations for the Orlando Magic and former president of the Valencia College Foundation; Stephanie Allen, executive director, Orlando Magic Youth Foundation; T. Picton Warlow, vice president of the Martin Andersen-Gracia Andersen Foundation; Alberto Fierro Garza, Mexican consul; Orange County Commissioner Jennifer Thompson; and Daisy Lynum, city commissioner, City of Orlando.
http://youtube.com/watch?v=xyeYZEVCfgQ&feature=player_detailpage