When Samantha Tanner's family celebrates Mother's Day this year, they'll have additional reasons to honor the 28-year-old mother of two.
That's because Samantha, who has been named Valencia College's Mary S. Collier Distinguished Graduate for 2021, will be the featured speaker at Valencia College's virtual commencement ceremony on May 8.
For Samantha, who completed her coursework at Valencia in December 2020 and has already begun her studies in psychology at UCF, it's been a long journey to earning her associate's degree. She started at Valencia College in 2011, right after graduating from Osceola High School, but dropped out before completing her first semester.
"I was working full time and juggling a lot of personal issues," she says. At the time, Samantha knew she needed to take a break from college and grow up. But she was determined to return to college when she was ready.
In the meantime, she got married, began working full-time in the insurance industry, and in 2015, had her first child, Luke. So when her husband, James, completed his tour of duty with the Marine Corps in 2016, Samantha knew it was time for her to pick up where she'd left off – at Valencia.
She took most of her classes online, juggling motherhood and her job and her studies. But she pushed herself to do her best. "When I went back to college, I worked hard," she recalls. "I knew I had to give it a shot."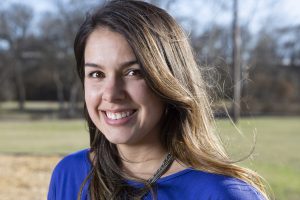 One semester turned out to be particularly challenging. In the summer of 2018, Samantha was pregnant with her second baby, Levi, and had three online math tests due two days after she gave birth. "I got up that day and did my three tests while I was breastfeeding," she says. "I hadn't been procrastinating. That kind of defined who I was and how I took my classes. It was my new normal."
Like many parents who return to college, Samantha has juggled the needs of her family with her studies. For instance, when her husband, James, decided to rejoin the military in 2019, the family moved from the Kissimmee area to Fort Hood, Texas. Samantha continued taking her classes online, managing the kids and a new job and a move across the country.
"I have to dedicate eight hours a day to my job and I have my kids and I need to dedicate as much time as I can when they're awake. When they go to sleep, that's when I get all of my school work done," she says. But she notes that her husband is supportive – and amazed at how driven she is.
The greatest blessing, she says, has been realizing that it's okay to follow one's own path — and timeline.
"I have a vast support system. People advised me to take my time. Just because I'm 28 years old doesn't mean that I have to have my master's degree already. That's ok, I can work toward it slowly," she says. "You cannot live someone else's life."
And, as someone who has struggled with depression – and watched many family and friends struggle with mental health — Tanner's goal is to become a clinical psychologist and focus on men's mental health.
"There's a lot of men and women in my life who have suffered from mental health issues," she says. "I've suffered from depression and anxiety for as long as I can remember. When you're in that kind of a hole, you feel like you're all alone. There's such a stigma on men's mental health; society makes you look weak for wanting help. I would really like to make a difference in the men's mental health field."