Rusty Johnson wasn't sure where his life was going when he returned home from Vietnam in 1971.
Immediately after moving back to Orlando, he began taking classes at Valencia College, thanks to the G.I. Bill.  At that time, Valencia was still a  fledgling community college, with classes being held  in portable classrooms near Oak Ridge High School.
Johnson, however, wasn't worried about portables. He already had plenty on his mind. As a   25-year-old single dad, with custody of his five-year-old son, he worked the overnight shift as a security guard at Walt Disney World, and after leaving work, he'd head straight to Valencia to take morning classes. His mom, meanwhile, babysat his son while Johnson was working or in class.
Johnson wasn't sure he was college material, but Valencia turned out to be just what he needed. Today, the mayor of Ocoee looks back and recalls how Valencia helped him resettle into civilian life – and launch a future for himself.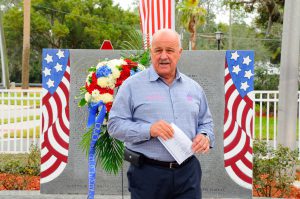 "When I was there in 1971, it was a great place for me. There were other guys there, a couple of other vets, but everyone was friendly. You'd sit in the cafeteria and talk to people… I had a lot of life experience, so it was different from a lot of them," says Johnson. "I was just an average student, but I tell you I never thought I'd get to go (to college)."
On his first day, he almost left, but a professor saved him.
"I went to my first class, humanities, and I went into the class and sat down and the first thing the teacher said was, 'I want everyone to write 1,000 words about something.' I thought, 'I can't do that,' so I got up and walked out. She followed me out the door and I told her that I couldn't do that. She said, 'You write what you can' and she helped me… and I got through it."
Today, Johnson still remembers the classes he took and the names of many of his professors, including the professor who taught real estate, the field that Johnson would eventually enter. But he was a well-rounded student during his time at Valencia, taking tennis and golf classes, as well as humanities and his most-dreaded class, algebra. (He admits that he waited until his last semester to take the course, but surprised himself by earning an A.)
"I loved music and I loved art," he says. "And I learned things about architecture that I never knew."
Yet Valencia made an impression on him in other ways.
Johnson met his wife, Marilyn, at Valencia – where he sat behind her in a psychology class. Encouraged by a friend, he asked her out.  And together, they made it through Valencia.  Married in 1974, they both went on to attend UCF and together raised five kids.
"She was a lot smarter than me. She was a big part of me staying in school – because it was tough, trying to make it, go to college while raising children."
Now the former postal worker turned real-estate agent is mayor of his hometown, but he still holds a special place for Valencia in his heart.
"Valencia was the best thing that ever happened to me," says Johnson.