Valencia College's East Campus — known as the college's arts campus — is expanding again, with the construction of a new Film, Sound and Music Technology Building that is scheduled to open for classes in fall 2017.
The new 30,705-square-foot building will enable Valencia to increase the number of students accepted into the college's popular film technology classes, and sound and music technology classes.
The $15 million building will feature a 2,500-square foot sound stage, a film screening theater with 125 seats, two recording studios, editing suites for film and music editing, a digital media production studio, plus collaborative workspaces for faculty, students and industry partners.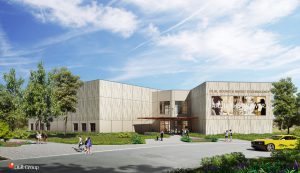 The college currently has 526 music and sound technology majors, and 250 film technology majors. The new building will enable the college to increase the number of students in each program. The college is also exploring additional tracks for its sound & music technology program, including sound for gaming and simulation, and sound restoration and archiving.
Designed by architectural firm DLR Group, the building is being constructed by Skanska. The college is planning a "topping out" ceremony in fall 2016.