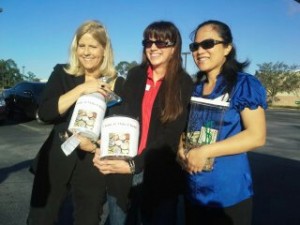 How many Valencia College nursing students and faculty members does it take to change the world?
Apparently, not many.
That was the lesson that nursing faculty delivered this January and February as they urged students, staff and faculty members of the nursing department to participate in a unique public-service event.
Every year on Learning Day — which was held on Feb. 8 this year — Valencia College staffers perform some type of community service —  work that ranges from landscaping in local parks, to walking dogs at a no-kill shelter, or volunteering in area schools. But this year,  members of the nursing faculty had a different idea. They decided to perform 26 Acts of Kindness, part of a national movement to reach out and help fellow Americans.
The idea came from NBC news correspondent Ann Curry. In the days after the shootings of 26 children and teachers in Newtown, Conn., she tweeted this idea:  "What if? Imagine if everyone could commit to doing one act of kindness for every one of those children killed in Newtown." Her idea quickly gathered momentum and 26 Acts of Kindness was born.
At Valencia, Kim Laughman, along with a handful of other nursing faculty members, discussed different ways they could honor the victims and families. "We thought, 'What would happen if we let everyone in the Nursing Department know that we wanted to perform 26 Acts of Kindness to show support for our own community. Would they want to join us?' " said Tommi Graves, another nursing professor.
The response, says Graves,  was overwhelming. For three weeks, 26 full-time nursing faculty members and adjunct faculty, along with staff members and nursing students collected hundreds of donations.  By Learning Day, their cars were full of goods to deliver.
Food was collected for Pooky's Pantry, a food pantry for Valencia College students in need of a meal.
Salad dressing was collected for the Orlando Union Rescue Mission.
VNSA (Valencia College Nursing Student Association) wrote letters and valentines to soldiers serving overseas.
Coupons were clipped and donated for military families to use in military PX stores.
Clothes and coats were collected and sorted for the Union Rescue Mission and the Orlando Coalition for the Homeless.
New and gently used socks & shoes, and clothes were bagged up for Park Place Adult Behavioral Center.
Board games, craft materials, & books were boxed for Park Place Children's Behavioral Center.
Blankets, towels and pet supplies were gathered for the Society for Prevention of Cruelty to Animals in Orlando.
Nursing students put donation jars in nursing classrooms and collected change for Shepherd's Hope, a Central Florida medical clinic that relies on donations and volunteers to provide health services for people without health insurance.
Handmade blankets, cookies and valentine baskets with "sock cupcakes" were made  for Crossroads Nursing Home in Davenport.
A valentine-card distribution chain was coordinated to deliver Valentine's Day cheers to nursing home residents at another center.
Toys, books and children's clothing were collected and sorted for the Methodist Children's Home in Sanford.
VNSA collected food for the Community Food and Outreach Center to be dispensed to low-income families in the Michigan Avenue area in Orlando.
Peace books were gathered to be distributed to different organizations.
Paper products were collected for Matthews Hope, a homeless outreach program in Winter Garden
A mysterious donor made and delivered many cupcakes to the nursing teams on West Campus and staffers at Florida Hospital South's cardiac unit, where many Valencia nursing students do clinical and practicum rotations. .
"This experience," said Graves, "reminded us that it is important to remember that it doesn't take a 'Learning Day' to show acts of kindness and generosity."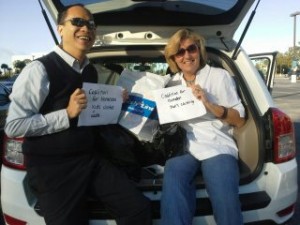 For Paula Pritchard, Valencia's nursing dean, the outpouring of support was no surprise.
"Our faculty are very giving; they always give to the community, and our students are always the first to volunteer for any type of community service," Pritchard says. "That's really the heart of nursing. And I think the spirit of Valencia and the philosophy of the institution absolutely lives and breathes within the students and faculty of our division."