A lot us have gone through the misery of having our wisdom teeth pulled. Some bounce back faster than others. But you could probably count on one mandible the number of people who have dreamt up a multimillion-dollar idea while recovering from the painful extraction. Valencia graduate Jesse Wolfe is one of the few.
"It was 2013, I just had my wisdom teeth pulled, so I got way into hummus during the recovery," Wolfe recalls. "But I was still like, 'Man, I wish I had some buffalo chicken dip right now.'"
A business major at UCF at the time, Wolfe felt the lightbulb buzzing over his head and began exploring the idea, testing new flavors with friends who were paying him a post-oral-surgery visit. ("Oh, dang, you gotta try this!" was the common refrain, hence the instantly marketable name.)
When he returned to his Business Plan course, he pitched his quirky brand idea as the Ben & Jerry's of the hummus industry, and immediately his classmates were asking to collaborate for their semester group projects. The project set in motion a wild ride for Wolfe, one that would even bring his idea to an episode of "Shark Tank," and eventually to shelves across America. And it's been a trip that could not have begun, says Wolfe, without first enrolling to Valencia College.
The first in his family to seek a college degree, Jesse Wolfe took his time navigating the post-secondary terrain. He had a brief stint at Kent State, his hometown university in Ohio. But he felt lost in a sea of 25,000 students and really over the cold weather. When his family decided to move to Orlando in 2010, he followed, working two part-time jobs – at Autozone and a newly-opened Sonny's BBQ.
In search of more opportunities, Wolfe discovered a growing passion for entrepreneurship. He knew he wanted his college degree finished, but wasn't sure how it would happen. Then he discovered Valencia's East Campus, finding the Econlockhatchee location "very welcoming."
"Once I decide to do something, I put my mind to it 100 percent," Wolfe says.  "I knew that I wanted to chase that business degree, and Valencia jumped out, because it offered the DirectConnect to UCF."
At Valencia, he found an environment much different from previous state university experience and made the most of his two years at the state college level. "The class sizes were small, and the teachers were so interactive. They truly cared about us as students," says Wolfe.
While he has since demonstrated a knack for business financials, math was not always his strong suit. He made good use of the study lab to get him through the more difficult math courses, and even developed an appreciation for statistics, a notoriously difficult subject for non-majors. "My stats professor was awesome," Wolfe says. "She took the time to show us why stats are important."
After graduating from Valencia in 2012, Wolfe was en route to entrepreneurial success, joining the charter cohort of UCF's entrepreneurship program. It was in his spring 2013 Business Plan class, that he crafted the model for O'Dang Hummus. Later in the semester, through UCF's incubator program, his innovative idea would win a $15,000 Prize from the Blackstone Launch Pad program.
Wolfe began to realize his hummus concept had potential in the real world, and he had to make the difficult decision to decline a more stable job offer in pursuit of his dream. "I had moved from Autozone to O'Reilly Auto Parts, and at 25, was ready to become the company's youngest district manager," Wolfe recalls. "It was really tough approaching my boss, who I really respected, and have to tell him I'm leaving. But he understood that I had a dream to follow."
At times, it must have seemed like a dream. In the summer of 2015, Wolfe found himself at a taping of ABC's "Shark Tank," where he pitched the new hummus brand to the show's celebrity investors. At the time, Sabra had 78 percent of the market share, selling only six varieties, notes Wolfe. The investors were taken by the spicier concept, and when the show finally aired in the fall of 2015, O'Dang experienced a demand he might not have written into his business plan at UCF.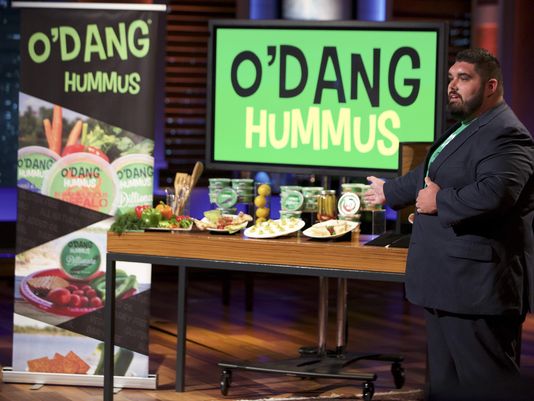 "The [Shark Tank] producers only give you a couple weeks before the episode airs." Wolfe says. "We definitely experienced a production shock and went through some growing pains right at the beginning… 'Shark Tank' probably came a year too early."
Nonetheless, it was as a good problem to have. Already in farmers markets, and local establishments such as The Meat House in Winter Park, Wolfe chalked it up to experience and set his sights on larger grocers, eventually striking deals with Publix and Whole Foods in 2016.
And in June of 2017, he took O'Dang to Wal-Mart's Made in America trade show, where the massive retailer shops for vendors and products to stock their shelves in different regions across the country. It received a "green card," allowing distribution in Wal-Mart stores and even garnered a best-in-show nod from Wal-Mart's CEO.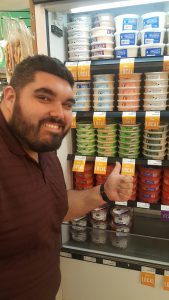 In 2018, a fast-paced six years after graduating from Valencia, Jesse Wolfe will be sending his product, O'Dang Hummus, to more than 2,000 Wal-Mart stores across the country. Not bad for a Valencia grad who wasn't always sure about college.
"Plenty of people do great things without a college degree, but for me – the things I learned, the networking, the resources I had access to – I can say, without a doubt, college was the best choice for my future," says Wolfe.
For Valencians looking to make their own mark on the world, he has some advice: "Just take action. Everyone thinks they have to be Zuckerberg and come up with the next Facebook. But there are landscaping companies and trash valets that make millions of dollars in revenue. Just find something you love, something that you think the world needs and take action."