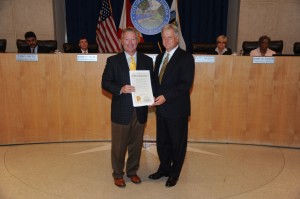 In the City of Orlando and the City of Winter Park, Aug. 27 was Valencia College Day.
Both cities made proclamations to honor Valencia, the winner of the 2011 Aspen Prize for Community College Excellence, and its contributions to their communities.
Aug. 27 was the first day of classes at Valencia's five campuses.
Valencia College's president, Dr. Sandy Shugart, was on hand at the Orlando City Council meeting on Aug. 20 to accept the proclamation from Orlando Mayor Buddy Dyer.  In Winter Park, Dr. Stacey Johnson, president of the Winter Park and East campuses, accepted the proclamation from Winter Park Mayor Ken Bradley. Accompanying Johnson were Lucy Boudet, vice president of marketing and strategic communications for Valencia, and Michele McArdle, executive dean of Valencia's Winter Park Campus.