KISSIMMEE —  On Tuesday, 28 high-school juniors filed into Heidi Harne's biology classroom for a quick lesson on the Ebola virus.
In the course of a 25-minute lecture, the teens — Osceola County high-school students who are on Valencia's campus to get a taste of college life — discover some of the basic biology behind the Ebola virus.
The virus starts, Harne tells the students, by attacking cells that are critical to a person's immune system — and that after the immune system fails, the virus floods throughout the body.
To the unsuspecting person who has been infected, symptoms don't usually appear until the seventh or eighth day, and at that point, the symptoms could be mistaken for the flu —  muscle aches, joint pain, headaches and a high fever.  But as Ebola systematically destroys cells within the body, patients decline rapidly — and many are dead four days after their symptoms appear, Harne says.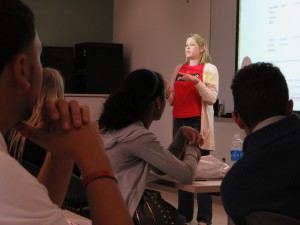 As frightening as the rapid decline sounds and as scary as the news makes Ebola seem, Harne tells the students that Ebola has killed 3,000 people in Africa so far this year — while the flu kills about 2,400 Americans every year. And, she says, before you get paranoid about Ebola, remember this: Measles are far more contagious than Ebola.
Harne's lecture was part of a day-long effort to encourage Osceola County high school students to start thinking about college — and planning for it.  On Tuesday, Oct. 7, buses carrying 1,500 high-school juniors from throughout Osceola County dropped students off at Valencia College's Osceola Campus. While there, the students took a tour of the campus and got to sit in on lectures designed specifically for them.
More than 20 Valencia professors taught mini-lectures to give the students a sample of the kind of work they may study in college — with titles such as "Lies, Darn Lies and Statistics: Are you being duped?" to "Being Formal in Writing: Fo' Shizzle."
The event was part of the county-wide "Got College?" initiative, which aims to increase the percentage of Osceola County high-school graduates who attend college. In 2013, 41 percent of Osceola County's high-school graduates went on to a state college or university, the lowest rate among all Central Florida counties and 57th out of 67 counties in the state.
"The purpose for this event was to excite high school students about the possibility of going to college," said Kathleen Plinske, president of the Osceola Campus. "We wanted to remind the students how much fun learning could be, and we could think of no better way to do this than to have them attend a mini-lecture taught by our most talented faculty."
For students like Lilibeth Salazar, a junior at Zenith High School in Kissimmee, the experience was eye-opening. "It was interesting learning something I knew nothing about — Ebola — and its impact on Africa," Lilibeth said.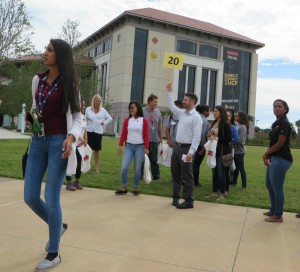 Meanwhile, in a nearby classroom, Prof. Tony Beninati taught a room packed with high-school students about the life of U.S. President Andrew Jackson, whom Thomas Jefferson once described as "one of the most unfit men I know" to serve as president. Although Jefferson wasn't a fan, Beninati explained that, through the lens of time, Jackson turned out to be iconically American — orphaned as a teenager, he became a rags-to-riches success story, a military hero who would form the modern Democratic party, become governor of Tennessee and later president of the United States.
"We like him because he was the first American politician to go from rags to riches," said Beninati.  Jackson, he told the students, was a controversial figure, "a democratic autocrat," but he also reflected the kind of nation that America was becoming. "We can be very generous people, but if you get on our bad side, we'll punish you," he said.
Jackson was a complex man — known as an Indian fighter for serving during the Seminole Indian wars, he and his wife adopted an Indian child (who was found on a battlefield in the arms of his dead mother).  Although his portrait is on the $20 bill, Jackson abolished the Bank of the United States. And though his opponents ran a nasty smear campaign against him, Jackson adopted one of their put-downs and made it his own. Nicknamed "Jackass" by his opponents, the portrayal of a donkey later became a symbol for Jackson's party, the Democrats.
To illustrate his passion for Andrew Jackson, Beninati , who teaches American history at Valencia, showed the students a photograph of himself as a kid, dressed in a cowboy outfit along with his younger brother. "I liked to pretend I was Andrew Jackson," he told the smiling 11th-graders, "and my brother was Jackson's sidekick, Sam Houston."