Chris Rivera struggled in high school.
Not in his classes, actually, but in one small arena that would spoil his memories of high school.
He couldn't pass the reading FCAT.
Rivera completed high school – earning all the credits he needed to graduate and passing all his classes. But he fell one point short of passing the reading FCAT. Because of that, he wouldn't receive a standard high school diploma.
By the end of his senior year, Rivera was frustrated and defeated. "I had a breakdown. I couldn't do it anymore," he says.
Without a high-school diploma, Rivera threw himself into work, first in the home-building industry and then landscaping for new homes. But his mom kept bugging him to go back and get his GED. Without a high school diploma, she reminded him, his options would be limited.
Rivera resisted his mom's pleas and, instead, focused on working. But when his mom heard about Valencia's YouthBuild project – a program that helps young people earn their high school diplomas while teaching them construction skills – she signed him up. And the YouthBuild team kept calling him until he finally relented.
"Miss Michelle (Sanchez, the YouthBuild director) kept calling me. At the time, it was really annoying, but I thought, let me give it a try. I'm not doing anything with my life," he recalls. "But from there on, after I started, it was different. It was a blessing. Honestly, it was the best choice I ever made."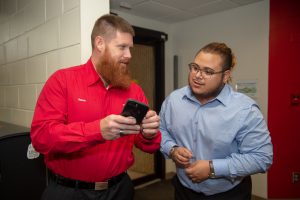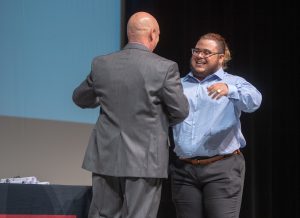 After six months in the program, Rivera earned his high school diploma and seven nationally-recognized construction-industry certifications. After that, Career Source Central Florida paid his way to take welding classes at Valencia's Advanced Manufacturing Training Center.
Today, less than a year after he completed Valencia's Welding I and Welding II programs, Rivera is working for Mitsubishi Power Systems in Orlando.  "The work is fun, it can be very challenging because I'm kind of new to the manufacturing world," Chris says. "This is one of those jobs where you have to experience it to grow in it."
He works overtime each week, but is happy for the paycheck, where his take-home pay is more than $900 a week. Meanwhile, his parents are ecstatic.
"My dad was really surprised that I ended up getting a job here. He was really happy to know that , for my first starting career, it's a great company," he says.  "And my mom cries tears of joy."
As for Chris, he's happy too. "I love the job; I love the people there," says Chris. "It's fun, I can't complain."