When Cathy Gutierrez was a senior in high school, she never dreamed that she might one day be heading to Harvard Medical School.
But her story is proof that hard work pays off. Cathy, who worked full-time during most of her college career, graduated from UCF with a 3.96 GPA and will pack up her bags this summer and head for Boston to study at one of the most esteemed medical schools in the country.
Her goal? To become a pediatrician and work on health policy to make affordable health care accessible for children.
Cathy Gutierrez's journey to Harvard started at Valencia College's Osceola Campus. While some of her high-school friends headed off to the University of Florida or the University of Central Florida, Cathy opted to stay close to home in Kissimmee.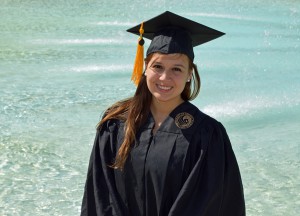 "I did very well on the ACT, but there was always a big factor playing into my decision and that was my family's financial situation," says Cathy, whose single mom supported her two daughters by cleaning houses and babysitting. "We were all trying to support each other. I didn't want to go away to a place where I would have all these additional expenses and fees. "
To help her family stay afloat, Cathy worked full-time during much of her five years in college — all while juggling demanding college courses.
So while classmates headed to UF and UCF, Cathy worked at Sea World and began taking classes at Valencia. And though her mother encouraged her to major in finance and business, Cathy soon discovered she had another passion: health-care.
Part of that was driven by watching her mother struggle to get medical care for her family.  The family, who moved from a one-bedroom apartment in New York City to Central Florida in 2001, received Medicaid for many stretches of her childhood, but sometimes struggled to find affordable treatment.
While attending classes at Valencia, Cathy started volunteering at Give Kids the World, a Kissimmee-based charity that provides "dream vacations" to critically ill children who want to visit Disney World.
Meanwhile, inside the classroom, Cathy discovered a passion for science. Classmates encouraged her to consider majoring in biology; her Valencia professors, she discovered, were tough but passionate.
"If it hadn't been for Valencia, there would have been a huge gap between where I was and where I wanted to be," she says. "There were some professors there, especially in the science classes, who were very rigorous. At UCF, I was well prepared for the classes."
The coursework at UCF may have been grueling, but so was the commute.  While juggling a full-time job at Red Lobster, Cathy began commuting daily to UCF, an hour-long drive each way.
"I started getting into the habit of recording my lectures and listening to them while I was driving," she says. "I would place my phone at the front of the class and record the lesson. Because I spent so much time driving,  it was a necessity."
At UCF, Cathy participated in numerous internships, including the Surgical Internship Program and an internship at Sanford-Burnham Medical Research Institute, a prestigious research lab  at Lake Nona.  Motivated by her work at Sanford-Burnham, Cathy added a second major. In addition to majoring in molecular biology and microbiology, she added a major in biotechnology.
There were disappointments, however. During her second year at UCF, Cathy applied for 15 national science internships, but didn't get invited for one. Yet she refused to quit. "It was a tough process. It was like applying to medical school," she said. "But the next summer, I decided to try again, but this time I applied to only three schools. I got accepted by two;  Case Western and University of Pennsylvania both accepted me."
Buoyed by that experience — a summer spent studying and meeting faculty members at the University of Pennsylvania —  Cathy spent her final year at UCF applying to medical school and preparing for exhaustive (and expensive) rounds of interviews.  It's customary, she says, to apply to about 15 medical schools, just to be sure that you'll get accepted to one.
Because she wanted to study pediatrics and health policy, Cathy cast a wide net. Her top choices were UCF, New York University, Case Western Reserve University in Cleveland, Dartmouth College in New Hampshire, University of Pennsylvania in Philadelphia, Harvard University in Boston and Emory University in Atlanta.
But Cathy Gutierrez didn't have the money for plane tickets and hotels in each of those cities. So Cathy took a job as a scribe, working in the emergency department of Florida Hospital four nights a week, from 9 p.m. to 7 a.m.  During the day, she went to classes at UCF from 9 a.m. to 12:30 p.m. and then worked as a teaching assistant until 4 p.m.
"I know it sounds insane now, but at the time, it was the only way I could afford to go to the interviews I might receive," she says. "When you're flying to a different state, and paying for hotel rooms, it can end up being very expensive."
Invited for 11 interviews, she accepted only eight. She narrowed her choices to Dartmouth and Harvard, but selected Harvard because of the strength of its pediatrics and health policy programs — and because  Harvard has offered to cover the cost of her tuition — $54,000 a year. She will still have to pay additional expenses (about $30,000 a year) with student loans, but those are financed by Harvard.
In August, she'll begin classes at Harvard Medical School.
"Of course, I'm very, very excited," she says. "I recently went back for a visit and got to meet my future classmates… I thought it was a school for people who were wealthy or upper-middle class. Instead, I found a very, very diverse student body.
"And I thought everybody would be too assured of their intellectual prowess. But that's not what I found. Everyone was very intelligent, but they were very humble. They were very grateful to be accepted to Harvard…That's one of the main reasons I'm excited: Because of the students I'll be there with."
If she has any advice for Valencia students, it's this: "Jump on any opportunity that you see. I applied to 15 internships and didn't get one, but you have to keep trying. For every nine 'nos' you get, you'll get one yes… It's a matter of trying over and over until you find that person who's willing to help you."